The MGA With An Attitude
FUZZY DICE - AT-093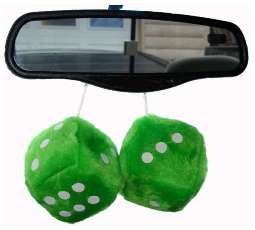 This is certainly whimsical, but it was quite popular in the 50's and 60's. Seems like the girls liked these things, or maybe the guys thought the girls liked it. I must admit it is a bit odd to hang these on the dash mirror of the MGA where they hide the speaker grille, but is happened to some of the best of us.

The epitome of this fad came around 1960 with the transistor radio in the fuzzy dice. Today you can buy the scanning FM digital version (red at right).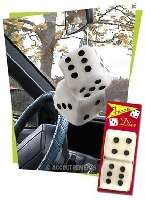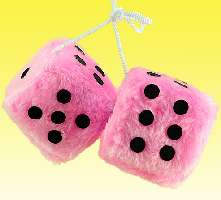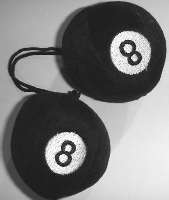 As I understand it, after the guy has worked hard to buy the car or beat it into running condition, the girl shows her appreciation for his efforts by making the fuzzy dice to hang on the mirror. It might otherwise be her way of keeping you from hanging her underwear on the mirror. (I'm not going to post that picture). In more recent years the girl might just buy the fuzzy dice, but you are not allowed to buy your own. It is a matter of morals and appropriate social conduct. Buying your own fuzzy dice is equivalent to lying about sex.

In time the term "fuzzy dice" has become generic, representing any useless accessory device. In the world of SCCA rule books it has a more specific definition referring to any accessory item that does not materially affect the performance of the vehicle. These accessories are generally allowed in Stock class, as long as it is not a safety hazard. If your car has wide white wall tires and curb feelers, it will not be complete without fuzzy dice (and maybe a fox tail on the antenna). Such things are a very important part of 1950's and 60's sociology. Do you remember poodle skirts?