The MGA With An Attitude
Original MGA KEY FOB - AT-100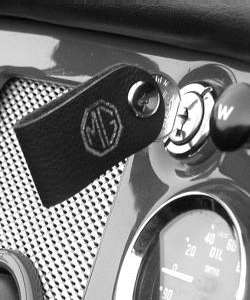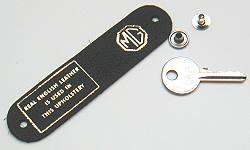 Each MG of the 50's through late 60's was equipped with a leather key fob from the factory. It was made from the same leather as the upholstery of the car. The key fob was embossed with gold logo. On the right side was the MG logo, and on the left side the text: "REAL ENGLISH LEATHER IS USED IN THIS UPHOLSTERY". Below are photos of an original one from the late 1950's.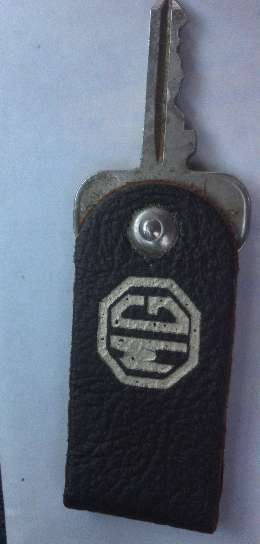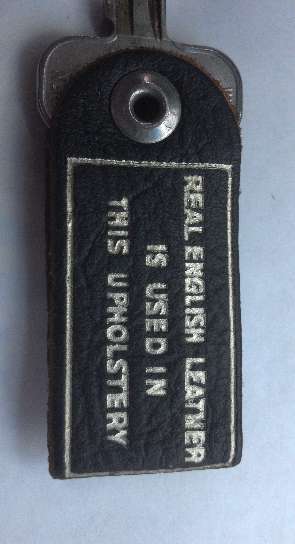 This wonderful accessory part is being reproduced by MG Car Club Germany in the most commonly ordered colors, black and red.

---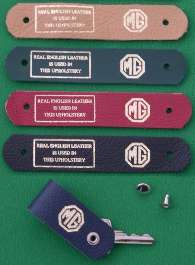 These colorful original style MGA key fobs are also available from the <!A href="http://www.mgcars.org.uk/mgccmga/regalia/regalia.shtml" target=new>MGA Register of the M.G. Car Club<!/a>.

Note: MGCC disabled this link in late 2012, so now you get to go hunting if you want to find it.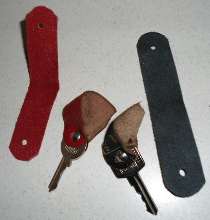 Key fobs in center at near right are original parts, made from the original seat cover material, dyed only on the front surface so you see the natural state of the original leather on the back side. Leather parts dyed on both sides are the reproduction parts.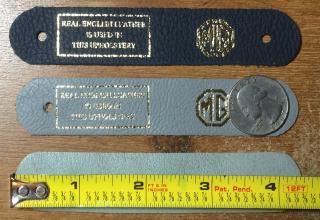 Here is a picture to identify size of the key fob. It looks to be 4-3/8-in long x 7/8-in wide. It appears to have been sheared into narrow strips from the leather flat stock, then the strips cut to length with a 1/2-in radius end die including the 1/8-in dia punched holes at center of radius. Length could vary slightly with the end trimming.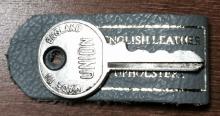 The aftermarket fob is colored on the back. The stamping on these is gold. The plain one cut from original leather is not colored on the back side. The length of the aftermarket grey one could not be much shorter and still allow the key to fit inside.