The MGA With An Attitude
SURFBOARD RACK - AT-102E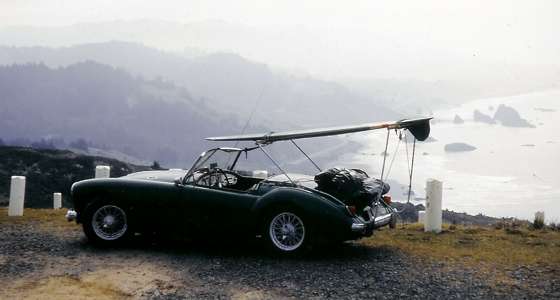 From Ken Morton in Alaska. Photo in northern California in 1969.


This hand made surfboard rack works with the rag top up as well as down. Where there's a will there's a way.

On 21 August 2009 at 01:46:07 UK time, Ken Morton wrote:
"I wouldn't have done this to a car with a good paint job, but this was just a $300 beater in 1969. The rack was bent out of electrical conduit with angle iron crossmembers and flat bar diagonal braces. It was supported by a large rubber suction cup on each side just aft of the top, like the ones that the trunk rack sat on. There was a strap [web strap] on each side going forward under the rear lower edge of the top, and hooking to the aft edge of the cockpit opening. A u-bolt clamped the rack on each end of the rear bumper. One end of a seatbelt was anchored under the hood .... and the other end to the front crossmember of the rack. The seatbelt held everything firmly down in front but allowed a quick disconnect. (The u-bolts required a ratchet.) It was very stable at 70+ MPH and I made a couple of trips from the Portland area to southern California with it. I don't remember what became of the rack. I sold this car after I bought my present MGA in 1970, and I still have the surfboard, though I paddle a kayak now. I think my 17' kayak may require a trailer"!