The MGA With An Attitude
STRAPS for Luggage Carrier - AT-102L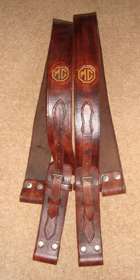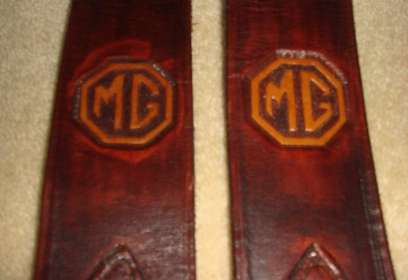 On 19 April 2012, Steve Gyles in Church Crookham, Hants, England <!-sw.gyles at gmail.com-> wrote:
"These are mine that I had tailor made in leather by a friend for my picnic hamper. They have strong 'popper' studs (snaps), so potentially the weak point although they have never popped out in use. Cost me a bottle of wine and had the MG badge cut into the leather! Not a bad deal. When I have other luggage I use ordinary stretchable (bungee) straps".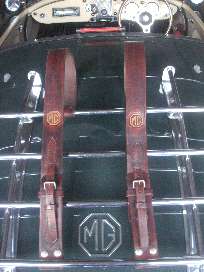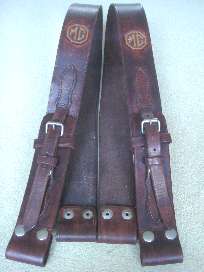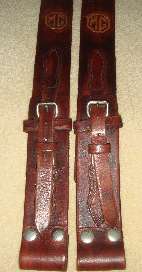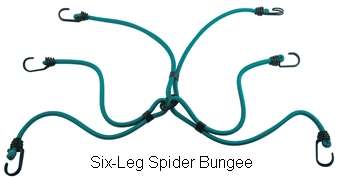 While not very "period", LBcarco.com sells the "spyder bungee". It has 8 legs and a plastic center ring, and it works very well.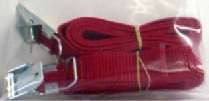 Lindsay Sampford in Cambridgeshire, UK wrote:
"I use a pair of nylon webbing straps (from Halfords) with a steel buckle that allows you to pull the tail through to make it tight and releases when you push the spring-loaded lever down. Not at all stylish but simple and safe".

Colyn Firth in South Yorkshire, UK, wrote:
"The problem with the modern nylon straps with the ratchet tighteners is that they can generate enormous force if you ratchet them down too tight. It would be very easy to bend the tubes of the luggage rack and even distort the boot lid if you over-tighten them". If you use bungee cord, always attach the end furthest away from you first, just in case you let go as you are stretching it! I have scars to prove why this is a good idea!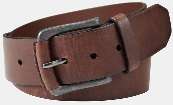 Bruce Mayo in West Sussex, UK, wrote:
"TK Max and other cheap stores have very nice, long, gents leather trouser belts with good buckles that look the part and work well around your picnic hamper or old leather suitcase, for just a few quid. Use two, one each way round, horizontally and vertically so to speak, to be secure".