The MGA With An Attitude
TIRE CARRIER, Modified Standard Rack #1 - AT-102N
On 1/29/2015, Mike Ellsmore <!-mike.ellsmore at gmail.com-> wrote:
"This is another version of a spare wheel carrier that uses the Moss stainless steel boot rack that a local guy has modified. So far it has had a 500 km run and no problems. Boot lid is heavy to open as you would expect but easily manageable. Boot lid doesn't twist at all in the raised position. The back bar of the standard frame was removed and the corner bends used as the angle supports for the tire in the wheel carrying version. A few of the Aussie guys are going for the external spare wheel mount for our 5,000 kms European and UK trip later this year to accommodate the navigators' luggage requirements"!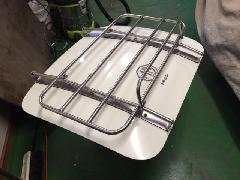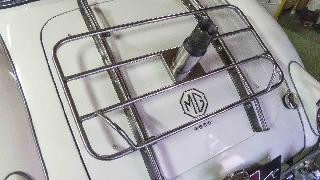 Above, before and after modification.
Below, with tire mounted on the MGA.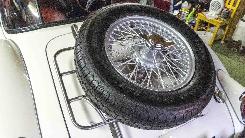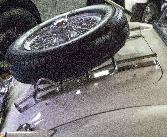 ---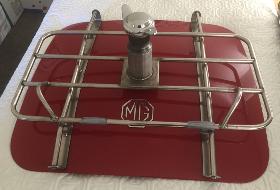 Tire mounted high, obstructing rear view.


On 27 January 2017, Mike Ellsmore in Victoria, Australia wrote:
"From memory it cost me $250 for second hand boot (no rust with latch) that had a slight crease in the skin plus had holes drilled in the wrong place from a previous rack (a mate welded up for nothing), another $750 to have it panel beaten and painted with 2 pack to match car, $500 for Moss ss rack, $200 for a guy to fabricate spear assembly (I provided the stub and spinner for nicks as they were rejects from another car that was being restored in the Club - a little wear on the splines/thread but fine for this purpose), plus a new MG badge. The only issue after a 10,000 km trip was it chipped a bit of paint off the bottom of the tonneau panel as it moved a bit on rough windy roads in the wilds of Scotland".