The MGA With An Attitude
WINDSCREEN WASHER Pump -- AT-105A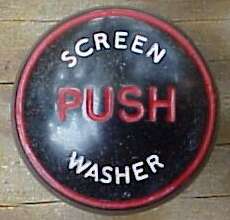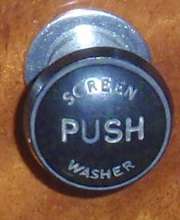 For the concours enthusiast, the logo on the black push knob might be all white or red and white (as shown). This changed at least once, with no particular record when it was which color. Such variations apparently happened on the fly without notice, along with single or dual tube outlets. There is speculation that the red logo may have been supplied (sometimes not always) to match red seats and red cockpit trim rolls.




Correct configuration but incorrect knob
(no colored ring). This may be
current issue from Moss Motors.

Notice the way the pump is attached to the dash with two nested metal cups, one inserted through the dash from the front, the other installed from behind. The neck of the pump with the mounting nuts secures it all. This puts the entire assembly farther back so the push knob doesn't protrude so far in front of the dash.

According to the Service Pars Lists, MGA 1500 and Twin Cams did not have the recessed metal cups, and used a knurled nut on front of dash panel. The recessed cups were introduced at beginning 1600 production, using a hex nut inside.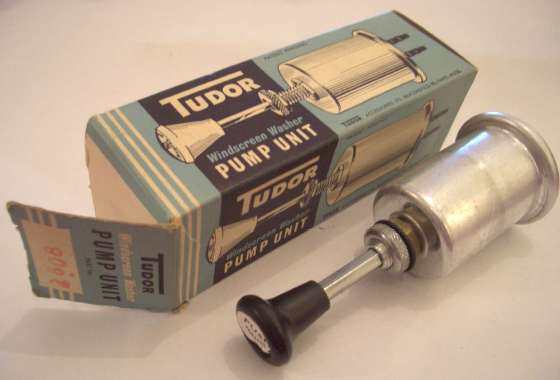 Above wrong style knob for MGA, and knurled nut does not work with recessed cups.
The two-connection unit requires a "T" in the output hose.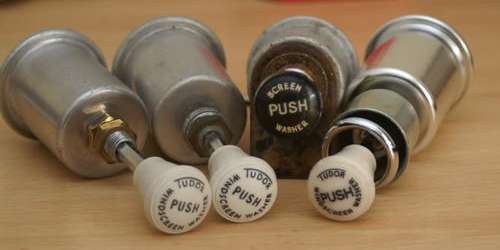 This photo shows some alternate knobs. White knob regardless of logo is incorrect for MGA. Black knob without white ring is also incorrect. However, being a common dealer or customer installed accessory, any of these knobs may be period correct as an aftermarket accessory. Part on left in the photo has a hex nut and no cups (incorrect combination). The next one has a knurled nut and no cups. The one at far right has hex nut and recessed cups. Wingard was another common brand for the aftermarket screenwasher pump.