The MGA With An Attitude
WINDSCREEN WASHER Installation -- AT-105B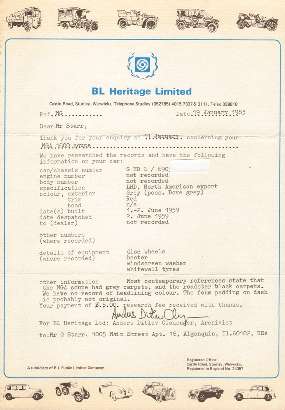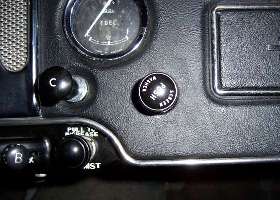 Gary Starr in Illinois, USA. has a factory installed screenwasher, and the Heritage certificate to show it is original. The photo shows the factory location for this accessory washer pump. Since the hole had to be drilled (or punched) after the dash panel was made, it is not certain if the hole was always in the same position. This early 1600 model (coupe) does have the recessed cups, production date June 1, 1959.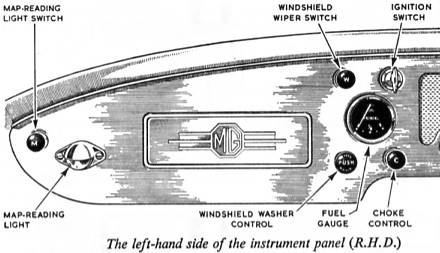 It appears that the washer pump is most commonly located in line below the wiper switch, and height wise about even with bottom of the radio cut-out slot. This illustration is from the Workshop Manual General Information section.

Other illustrations and photos in the Workshop Manual and early issues of the Operation Manual (later called Drivers Handbook) show the washer pump mounted with a knurled nut and no recessed cup. Apparently the recessed cup was intorduced with the 1600 model. MGA Twin Cam and MGA 1600 Drivers Handbooks illustrate the pump with the recessed cups, although the Twin Cam SPL does not list the cups. The screenwasher accessory part number never changed for 1500 and Twin Cam. There are two different assembly numbers for the 1600 (with recessed cups). The last number apparently included the reservoir bottle with larger neck and cap.






The wiper drive spindles on the MGA are 15 inches apart and near the base of the windscreen. The jets should be positioned 7 to 8 inches apart, centered in the body cowling about 2-1/2 inches aft of the bonnet to body seam, where they can spray over the parked wiper arm. The spray stream can be directed straight up or just slightly outward to land near the top of the glass when the car is stationary. At speed on the road air flow will force the liquid to flow lower on the glass and just a bit farther to the sides.

My jets are 6-3/4" to centers of the drill holes in the body, 7-1/2" across the tips of the jets. It was like that when I bought the car in 1977. Three MGA I had in the late 60's had no screen washers. They work well in that location. I don't see any reason to place the jets farther apart. This was most often a dealer installed accessory, so hole locations might vary.

I am still looking for an original installation instruction sheet, in case anyone may ever find one.