The MGA With An Attitude
Headlights, LUCAS PL700 TRIPOD Lamps - AT-111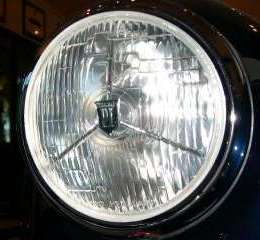 Fair warning here. This is not the best picture for this part, as it is actually a rather poor reproduction of a Lucas PL700 headlamp. The reproductions are hard to tell from the originals at first glance. There are some minor variations in the lettering in the Lucas logo, the back of the bulb may not be painted the right color, the outer mounting flange may be thicker, and the ribbing in the glass lense may not be as crisp as the original parts. But the greater problem by far is poor optical quality. The repro lamps may blind oncoming drivers and scatter a lot of light into the trees and on the roadbanks.

But the original issue Lucas parts are actually quite good. They have a nice sharp horizontal light cutoff and focus most of the light on the road ahead for good visibility. You can see from the picture where they get the name "Tripod Lamp". There is an internal three leg structure which holds a center reflector in front of the light source. For a good explanation of how the Tripod reflector works (or should work) see PL700.pdf - (745-KB pdf file).

At time of this writing there are no known reproduction parts with quality as good as the originals. Some are worse than others, and some have such poor optical quality as to be downright hazzardous to use. Some repro parts being sold on eBay may be the worst of the lot (and may not be returnable), so let the buyer beware. If you want the parts for a daytime only show car, perhaps the repro parts are good enough. But if you also want to drive the car at night, it is recommended that you try to seek out original vintage parts and refurbish them as necessary to be functional.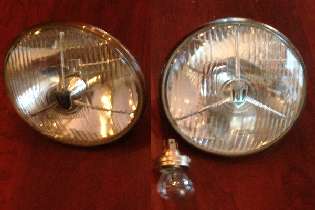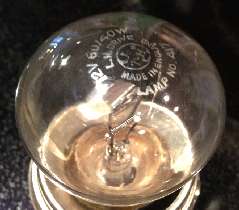 | | |
| --- | --- |
| Here is a New Old Stock PL700. They are in their original boxes. They also have the original "christmas ornament" spherical bulbs. They have "LEFT HAND DRIVE" near the top and the number 556468 in the glass (but I think repros have these same markings). The backs are painted a orangish brown color. | |
---
The following photos from Jim Cheatham in Amelia, Virginia, USA, show original Lucas PL700 lamps.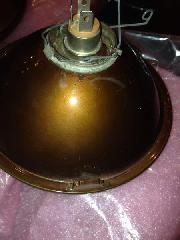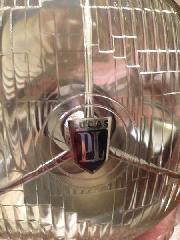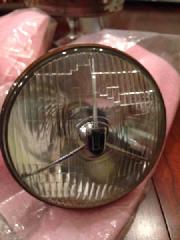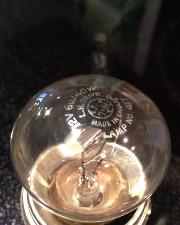 Two photos beow are from Don Tremblay in Rutland, USA.