The MGA With An Attitude
RADIOS, PERIOD TYPE - AT-112_aldavis
AL DAVIS Custom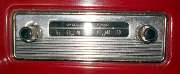 At 12:15 PM 12/6/2008 -0800, Bill Haglan wrote:
>> "Here is a picture of the 12 volt positive ground AM radio in my 1958 MGA. The radio faceplate says "Al Davis Custom". I have seen a few other MGA's with the same faceplate. It is a period piece but not factory.
>>
>> Al Davis Radio was located in Torrance CA and installed radios in VWs and other cars. I have no idea if they did installation for dealers. I don't know who made the radio as I am to lazy to take it out."