The MGA With An Attitude
RADIOS, PERIOD TYPE - AT-112-ausi
Australian no-brand Radio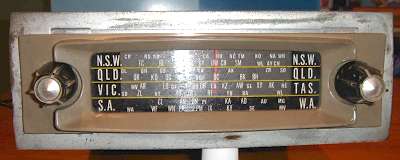 Here is one for the Down-Under market. This Australia exclusive radio appears to have every radio station in the country posted on the dial plate.

On 12/26/2009, Tom Aczel wrote:
"This is the original radio out of my Australian assembled '62 MGA 1600 Mk2.

The radio would have been manufactured in Australia, but there is no logo or identifying mark anywhere that I can find. It's as you can see, very large, and it's very heavy. (It weighs 5 lbs!) Local car radio manufacturers of the period included AWA (Amalgamated Wireless Australasia), Ferris and HMV. I'm almost certain this radio would have been sourced from one of these companies.