The MGA With An Attitude
RADIOS, PERIOD TYPE - AT-112-_motorola
MOTOROLA Brand


The Motorola "Big M" radio 2-dial radio, model 600X. More information.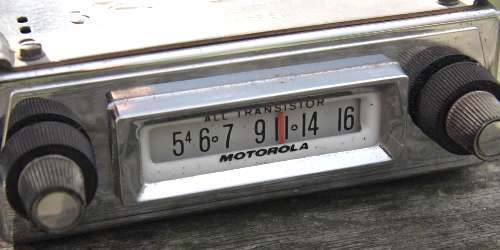 The Motorola 406 radio. More information.


| | |
| --- | --- |
| This is a "Motorola Transistor Powered" AM Radio unit with built in speaker that was installed in a 1958 MGA by an Authorized MG dealer. This is a positive ground radio, which may be a little rare for a transistorized model. | |
At 12:18 PM 7/28/2006 -0600, Jim Mackin wrote:
"Let me add a second confirmation for the Motorola radio you show. My 1958 'A' had the exact same radio installed. I now have two of the radios, one works well, one doesn't. I'm considering having the non-functional one converted to AM/FM."



Below is a push button model Motorola AM radio from the same period.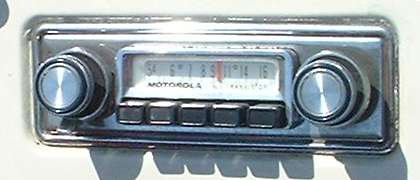 Below is another Motorola "All Transistor" AM radio, found in a 1962 1600-MK-II.




Below is the Motorola Volumatic radio. This one you really do not want in your MGA,because it doesn't fit properly. Notice the wide rectanglar housing around the tuning shafts. This front housig is slightly wider then the apperature in the MGA dash panel. Installation of this model radio has been the demise of many an MGA dash panel when it was "convenient" to chop notches in the sides of the dash opening to clear this front housing. These notches would be mosty hidden by the eschutchen plate and chrome trim ring, but it makes a mess of the panel when retoration work requires straightening and welding of the dash panel before painting.