The MGA With An Attitude
ANTENNA MIRROR, Ferrite Coil Type - AT-112A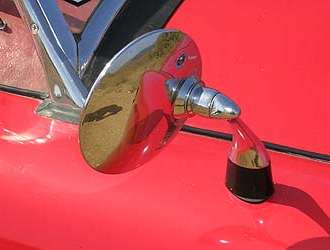 This is a real fooler. It is a Delswift period style fender mirror with built in ferrite loop radio antenna. Apparently the antenna-mirror actually provides better reception than a mast antenna. Styling-wise it is a close match for the more common Lucas wing mirrors of the same period. This one was also available with a convex lense.

From an older eBay auction description:
This auction is for an authentic original vintage period New Old Stock Antenna and mirror combination manufactured by Delswift products of Sheffield, England in the 1960's. Still has the factory sales sticker on the base. A neat invention that allows you to have a genuine vintage period rear view outside mirror without having to cut another hole in your classic car for the radio antenna. This is a high quality, heavy brass, triple chrome plated accessory that was an authentic factory option for the Sunbeam Alpine, Tiger and other Rootes group Motorcars. I believe that it was also an authentic aftermarket accessory for the Volkswagens of the 60's and 70's and was listed in the Empi catalogs. No matter, this accessory can be used on any car. Complete with mounting base, fastening nut, gasket, antenna lead in wire and a nice original brochure for the mirrors. Antenna wire is 70 inches long. If a longer length is needed Radio Shack sells an extension. Mirror head measures 4 1/2 inches and the mirror stem measures 6 inches from top of the fender to top of the extension. Can be adjusted to use on either right or left side. "The most useful car radio antenna (aerial) in the world". (Said so on the box, which has mistakenly been tossed out) Convex glass mirror surface. In as new condition. There are no defects or blemishes anywhere. Any irregular surface in the photos are only photos themselves and not the mirror. Have sold about 15 of these items and everyone has been delighted with them. Exceptional station reception for the radio...AM or FM.