The MGA With An Attitude
SEAT BELTS, Factory Original - AT-116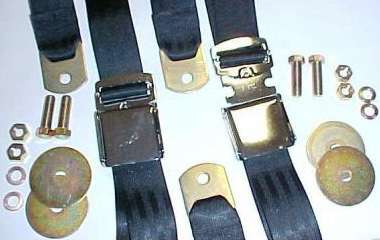 MGA did not have seat belts installed by the factory. 1600 Mark II cars did have the anchor points installed in the car, but not the belts. Earlier cars required mounting points to be added, and BMC made service kits available for this purpose. The seat belts were static three point belts typically supplied under the BMC label. The dealers may have been required to use BMC supplied parts, but car owners could certainly buy aftermarket from other sources.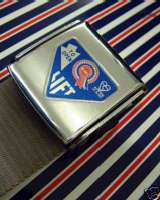 Period style seat belts for the MGA would be "aircraft style" belts with a lift buckle and chrome plated hardware. It is likely that all seat belts would have been either dealer installed or aftermarket parts (unless the car was special ordered with seat belts from the factory). The belt color was most commonly black, regardless of interior colors. Other color belts were and are still available, but colors other than black are a matter of personal taste (may look odd in the MGA). The correct BMC sticker for the buckle is shown at tight in a photo from an eBay ad.

---
Photos and information below is compliments of Derek Tucker<!-derekwtucker at hotmail.com->.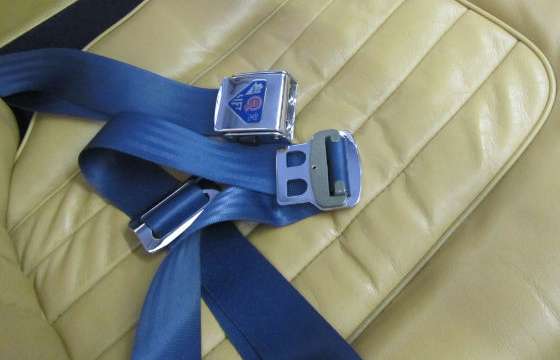 BMC seat belts with original fittings (but modern belt material in different color).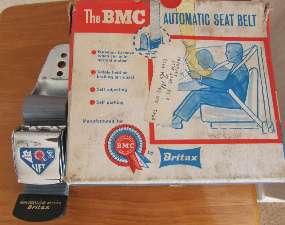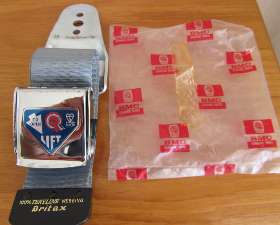 The box says "BMC by BRITAX".
The chrome clasp has the BMC sticker but the black plastic end stop is branded Britax.


These parts were originally made by Britax (BMC part number AHH6122) but later by Kangol (BMC part number AHH7319). Britax seat belts were silver gray (photos above), and the Kangol belts were black.




I have found my BMC seat belt leaflets. The single page insert shows the Body Change Points at which the attachment points were introduced into production bodies. This shows the MGA MK.2 had these points from the outset. The front of the leaflet shows the part numbers of the BMC Seat Belt Kits if your car was of the current series but its body number is earlier than the change points shown overleaf. This shows that the MGA 1500, 1600 MK.1 and Twin cam Tourer required Part Nos. AHH 6141-R.H. and AHH 6193-L.H. Also the MGA 1500 and 1600 MK1 and Twin Cam Coupe required Part Nos. AHH 6175-R.H. and AHH6194-L.H. The Price was £5 5s. 0d. -- Derek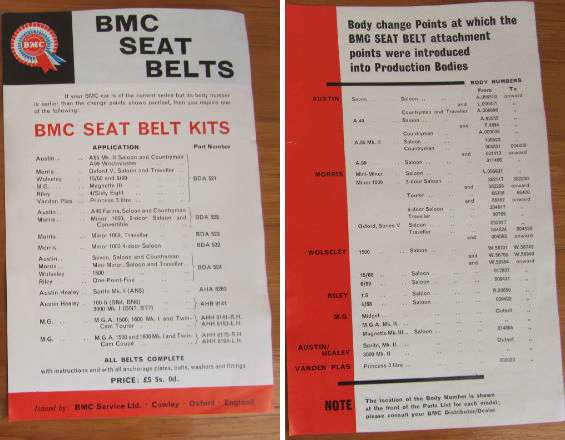 ---
For more information on installing seat belts see Interior Tech.