The MGA With An Attitude
STEERING WHEEL WRAP, Leather or Vinyl - AT-125
The original MGA steering wheel is rather thin by design, in keeping with the lightness image of the sports car. Unfortunately that makes it a bit slippery to grip, especially if you happen to be used to a thicker wheel rim. Leather driving gloves might help some, if you like that sort of thing. The aftermarket steering wheel wrap does wonders to make the wheel rim thicker, give it a better grip, and keep from burning or freezing your hands during radical weather conditions.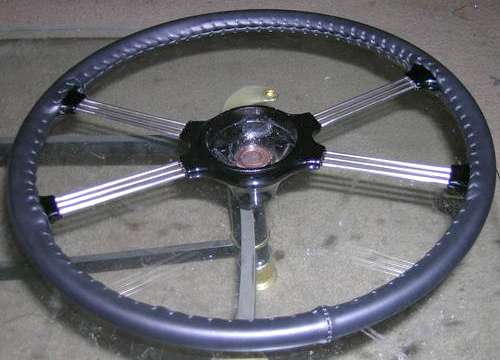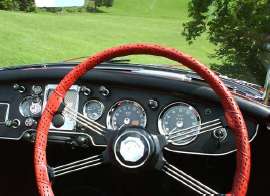 The steering wheel wrap is a valid period accessory, not seen much on newer cars that commonly have a soft vinyl cover molded on the steering wheel (along with air bag inserts). Since it is an aftermarket accessory there are few limits on design or pattern. The one shown here is smooth leather, but it was also common to have perforation holes and a more textured surface. There are also vinyl material covers which commonly have a slightly padded liner for more thickness and cushioning.

The steering wheel wrap needs to be the correct length to fit the wheel diameter, and the correct width to fit snugly on the rim, so there may be a fairly large number of sizes on the market. Installation usually calls for manually lacing through all of the holes around the inside perimeter to make it ultimately secure. A cover that stretches and slips over with no lacing is generally worse than worthless as it may slip off at the most inconvenient (and hazardous) time. Word is that "tight is right", and when installed properly the finger grip bumps on the back side of the wheel will still be there (slightly larger).

When steering wheels had mostly smooth phenolic rims the wheel wrap was a common accessory found in most auto parts stores, discount department stores, mail order catalogs, accessory specialty companies, or almost anywhere auto parts were sold. Today you might have to look a little harder to find one you like, but they are still available and reasonably priced. Check with collector car parts suppliers, J.C. Whitney, eBay, and various internet web sites.
---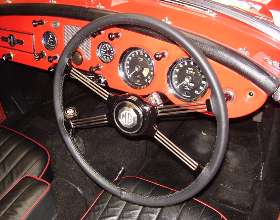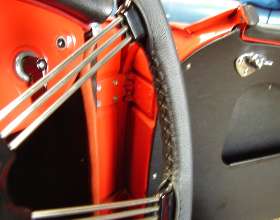 These last two pictures compliments of Lindsay Sampford, Cambridgeshire, UK