Diameter of the trim ring must be suitable match for the wheel diameter. Depth of the ring should be very close to matching depth of the outer exposed part of the wheel rim so the trim ring comes close to touching the inner wheel disc. As such, there will be a variety of part numbers for different depth of reach to suit various wheel widths and offsets. Also notice on these aftermarket parts (above) that the spring fingers extend from the outer edge of the trim ring. The outer ring will cover wheel weights, and wheel weights will hold the trim ring a little away from the rim making for a "loose" appearance. To my eye these parts look a little "clunky" on the MGA which is otherwise noted for slim light appearance with rounded corners.
---
On 1/14/2016, Edward Vandyk <!-Edward at vandyk.co.uk-> wrote:
Part number AKD599 is a ring binder, unlike later SPLs. Incidentally has a Twin Cam supplement in the back of it. I was amused to see Rimbellishers listed as Part AHH8002, but also bemused to see that it said 'wheels to be car colour' next to it".

Quaint. That line in the SPL may be a misprint or a misinterpretation. All standard wheels from MGA were painted silver (unless possibly on some special order). "Wheels to be car color" may only mean they are not chrome like the trim rings, just normal paint. Still, if it wasn't a misprint, there might be an example or two of cars with wheels painted body color. Food for thought.

All of the SPLs collectively only list two disc wheels the 1500 and 1600 type. It is clear in the SPL that the Rimbellishers only fit the earlier wheels. For later cars they offered Ace Full Wheel Covers.

Okay, there are some BMC ads that feature MG 1500 cars with Rimbellishers and wheels painted body color.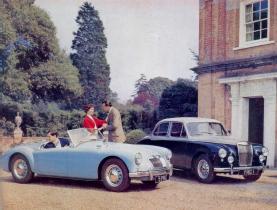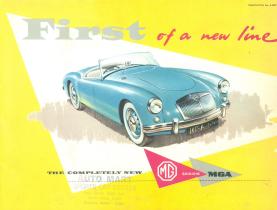 594KB pdf - Poster

8.8MB pdf - 8-page brochure
This is odd, but the poster says, "Wing mirror and luggage rack optional extras", but no note about the Rimbellishers. The fold-out brochure doesn't mention Rimbellishers except in the pictures.

It would be good if we could find an early MGA 1500 with a heritage certificate showing factory supplied Rimbellishers, and the car might still be in original paint, possibly with wheels painted body color. Seems like a rather long stretch.