The MGA With An Attitude
TOURING KIT, Spares For Emergencies - AT-169
This accessory is listed in the MGA 1500 Service Parts List as "Touring Kit". The kit came packaged in a BMC wrap. It was a package of pre-selected spare parts to carry during a road trip. In some countries it would be mandatory to carry a specified number of spare parts, such as light bulbs and a fan belt. The requirements might vary with different localities. This Touring Kit was apparently an assembly intended to satisfy most of these requirements in various areas. You could pick this kit up at your local MG dealer prior to a road trip, and bring it back when you return home. There would be a moderate deposit which would be refundable on return, plus perhaps a small "rental" fee, and you would pay for any parts you actually used from the kit. Or you could purchase the kit to keep if you did a lot of touring.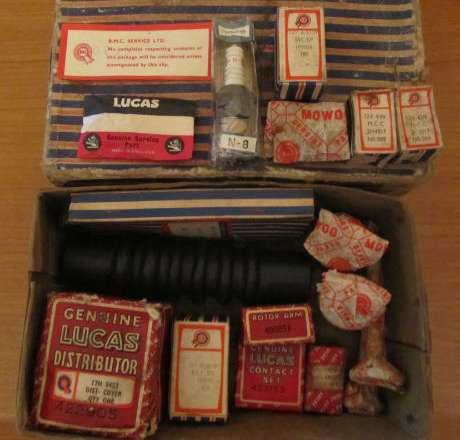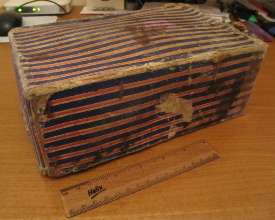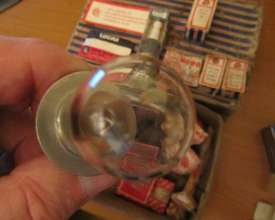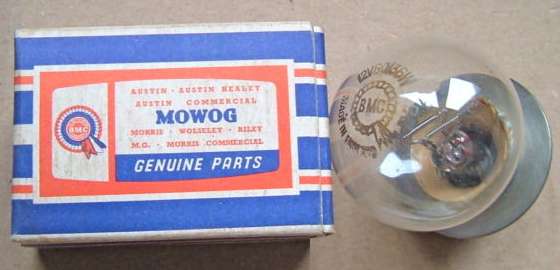 On 12/22/2012, Derek Tucker <!-derekwtucker at hotmail.com-> wrote:
"After several years of searching I have found the elusive Touring Kit of spares. Virtually complete, missing one hose and the fuses may have been replaced as the Lucas packaging is slightly newer than the other Lucas items. The head light bulb has the BMC rosette printed on, these are very difficult to find now, the smaller bulbs are all original but no rosettes were printed on these as bulbs were too small. The fan belt is original BMC with correct Part No. but could have been replaced as the sleeve has a price on it. Unfortunately the box is rather battered but complete and intact, but has lost ALL the attached stickers due probably to damp storage at some time, but all the part numbers of the items are correct".

Original Part No.  8G1057 com(e)GB101    (beginning of MGA May '55)
New Part Number    8G1058 com(e)GB17061  (shorter fan belt Feb '57)
New Part Number    8G1073 com(e)GD7571   (just before 1600 May '59)

The kit included the following parts:
(1) Contact set    (2) Valve spring (outer)  (1) Top radiator hose
(1) Rotor          (2) Valve spring (inner)  (1) Bottom radiator hose
(1) Condenser      (2 pr) Valve cotter      (1) Headlamp bulb
(1) Spark Plug     (2) Valve cup             (1) Side lamp bulb
(3) Fuse (35 amp)  (2) Valve circlip         (1) Number-plate bulb
(1) Inlet valve    (1) Fan belt              (1) Tail lamp bulb
(1) Exhaust valve  (1) Distributor cap
Interesting that you might be expected to R&R the cylinder head to replace a valve.

Here is a picture of a more extensive Touring Kit for Aston Martin DB5, purchased in 1965 and recently offered for sale by the original owner. It sold at Bonhams auction for £1,062 (including premium). For as long as the link will last, see http://www.bonhams.com/auctions/20142/lot/62.