The MGA With An Attitude
AIR CONDITIONING BRACKETS For MG - AT-201C
Here we have drawings of brackets for the air conditioning compressor for the MGB. Until proven otherwise, I suspect they would work as well for the MGA. These drawings were (reportedly) done from dimensions taken from an original dealer installed AC as specified by BMC. This copy of the drawings was supplied by Charles Durning <!-durningcharles atgmail.com->. Creator of the drawings is noted on the drawings as "© Simon Lacey 2006".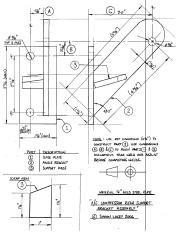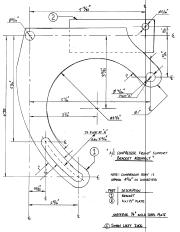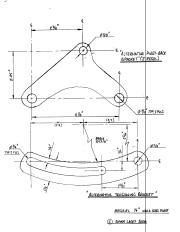 With a bit of research I found this on a BBS. Simon Lacey pulled the original AC parts from a 1980 MGB LE Tourer in a bone yard at Ecology Auto Parts in Chula Vista. The compressor was a Sankyo SD-508 (but looks VERY similar to the "Sanden" SD-700 on his 92 Range Rover). Seems like they are the same company and the Rover unit seems to have the same fixing points and "piggy back" mounting for the MG alternator. You could tie up an ocean liner to them! As is common, the BBS archive does not have dates or places or contact information for the poster(s). However, Simon did post a link to his web site where this information is posted. Try this link:
http://www.simonlacey.com/pages_new/content/mg_link_page.htm
Clicking on "Enter Here" will ask for acceptance of terms. Put "accept" in the box and click the arrow. There are also some nice pictures of the brackets.