The MGA With An Attitude
Under Bonnet Insulation - AT-210
After replacing body sills and repainting my MGA in 2008, I installed 3/8 inch felt padding under all carpet from the toe boards to rear of seats, carpeted the cockpit area aft of the seats, and carpeted the boot. I also installed the "Under Dash Pad" that was a standard part for the MGA Coupe, now an optional accessory for all MGA (in better form than the original pad). All of this collectively does a very good job of thermal insulation and sound deadening.

By coincidence I also installed a new exhaust system at the same time. The car was then noticeably quieter then ever before, and subsequently I began to notice engine valve gear noise (ticky tacky tappets) that was previously of little consequence. During the first road trip (immediately after the restoration work) while at NAMGAR GT-33 in Pennsylvania, Impulse got the best of me, and I bought this under bonnet insulation kit from Little British Car Company (http://www.lbcarco.com). Apparently it was not high priority, so I never got around to installing it. Some time later I sold it to a friend who did install it in his newly restored MGA 1600 (picture below).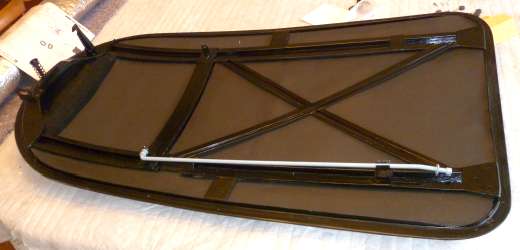 The material is high density closed cell foam rubber, 1/4 inch thick with a smooth skin, charcoal gray color. Multiple pieces are die cut to fit nicely into the several spaces between the bonnet skeleton structural braces. "3M Super 76" spray adhesive was used for the glue. You need to mask everything you don't want sprayed and work fast, as it gets tacky fast. I gives a very clean appearance when installed. Will have to wait for the user report about the intended noise reduction.