The MGA With An Attitude
BOOT FLOOR to REAR VALANCE Joint Seal -- BD-107
On 11/26/04, Tucker J. Madawick wrote:
>"What appears to be horse hair welting at the rear edge of the trunk (boot) ledge and the body looks like it was stapled there at the factory and would have to have been put there before the body was assembled and painted. It looks like it could be a great sponge that help that area rust."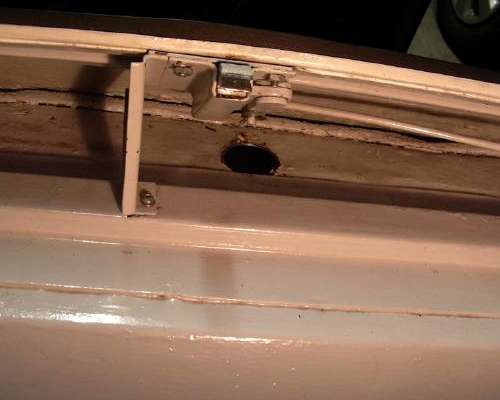 Yup, it was horsehair, or more likely felt material, and it was indeed attached there prior to body assembly. I believe the staples were actually resistance welded in place. Common modern replacement during restoration is lots of caulking. See picture.

Also see my recent (2008) solution to the same issue, where the space is a little bit too large to hold the caulking without running out. See center of Restoration page RT-634.

On Jul 18, 2015, Nick Kopernik in Redding, CT, USA wrote:
"My welting is original, it has never been removed. It looks like the fur flex door seal material minus the rubber gasket. Not the best of photos, but you can clearly make it out".