The MGA With An Attitude
WOOD SPACER for Bonnet, Early - BD-111
Factory named "Batten - bonnet lid stiffening"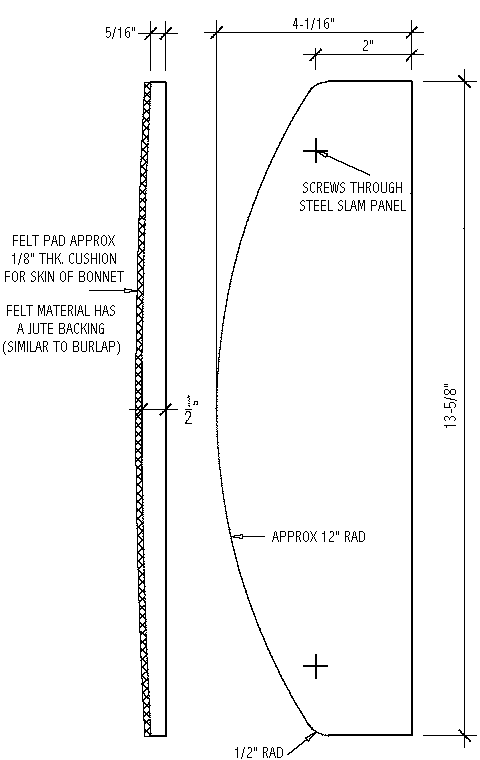 Thanks to John DeWolf for the dimensions.


This part has 3/16" crown on top left to right, which should be easy to form with a disk sander. There is no crown front to back, same thickness at front, middle and back. If you are making one by hand, form the top contour so the wood with the felt top pad will fit fairly snug in the space allowed.

Note: This part as drawn may or may not be original factory issue (maybe depending on issue date), but it does not exactly match the known original one in my MGA from August 1957 production. My original part is curved (concave) on the bottom side from front to back, appearing to be steamed and mechanically formed to match the curvature of the bonnet. Or it may have warped over time from engine heat (speculation). It does have the felt pad on top as noted. It also has a horse shoe shape notch at front center to clear the bonnet latch stud. I may some day measure it for a drawing, but for now it cannot be removed from the car with the thick felt pad for radiator top seal glued in place.

Someone's comment on the material was "Appears to be Oak", but I have reason to believe that all original wood for the MGA was more likely Ash.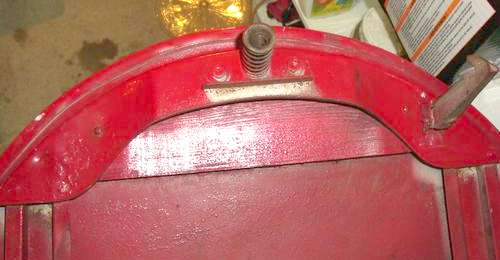 Common belief is that the wood piece was originally painted black, same for all color bodies, and installed with two round head wood screws and a felt pad. I also have reports of the wood piece apparently being painted body color in assembly with no paint on the hidden surfaces of the wood or on the bonnet behind the wood. This may have changed somewhere in production, so this may still be an open question, and would help if it was subject of a poll of people who believe their car is original.