The MGA With An Attitude
SHUT FACE PLATES, 1600-MK-II -- BD-130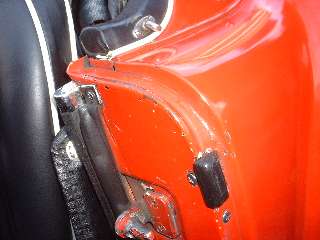 In May 1961 at Car No. 101292, the shut face plate was changed to incorporate an inboard vertical tab and a drip/drain trough in the curved top surface. This was accompanied by a change of the door seal finisher chrome trim piece which then stopped short of running over top of the shut face panel. (This photo shows incorrect door seal).

There was a question about the change over point for Australian built CKD cars.
On 2/5/2015, Garry Kemm <!-mgkemm at bluep.com-> in Melbourne, Victoria, Australia wrote:
"There were only 148 Mk2 CKD roadsters assembled and sold in Australia. I have a list of every chassis number for all Australian CKD MGA's and have been involved with them for over 40 years. I have seen dozens of examples. The shut face plates were introduced at the same point on Australian cars as they were on the UK cars".

Due to delays in shipping, and more delays before Australian assemby and sales, production of MGA 1600-MK-II cars in Australia would lag about a year behind production in England. The Ausi 1600's still had the plain edge shutace plates, an the Ausi 1600-MK-II cars did have the modified plates with the drain trough. Just that assembly of the MK-II cars in Australia did not commence until early 1962.