The MGA With An Attitude
SPLASH PANELS Behind Rear Wheels -- BD-225
Jack Wannenwetsch <!-wa2fku at rochester.rr.com-> near Rochester, New York, USA made his own rear splash panels. He said, "18 gauge. The captive weld nuts are from McMaster Carr, very reasonable prices, no minimum, cheap shipping".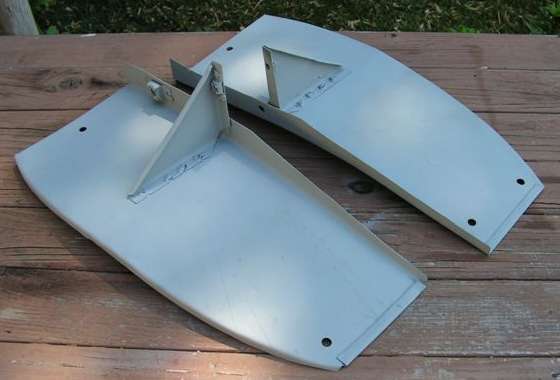 These look easy enough being mostly flat with flanges. Jack made a basic drawing of the gusset plate, but the rest came from a paper tracing (which he tossed out when finished). So I got motivated and pulled a splash panel out of my car to measure and make drawings. Click on the image below for a 4-page file of full scale printable templates with cutting and forming dimensions (211-KB pdf file). These will print full size on ANSI D-size paper, 34 x 22-inches.


The gusset has two 5/8-inch flanges and one 1/4-inch flange. The original cage nuts have 1/4-28-UNF thread, and the cage is 5/8-inch wide. If you might use larger cage nuts (5/16 thread for instance), then the mating flange on the gusset plate would need to be wider, and the clearance hole for the bolt would need to be larger diameter to match.

The parts are right and left handed. The drawings are for the right side splash panel. To make a left side part, make all of the bends in opposite direction, and weld it together as a mirror image of the right side part. Bends on the gusset face downward to help shed dirt. The parts are designed to be spot welded. If you want to plug weld the assembly, then punch or drill holes in the gusset flange to suit.