The MGA With An Attitude
ODD PISTON in Front Wheel Cylinder - Drum Brakes, MGA - BT-107
Here is a bit of a challenge for the veterans.
At 04:22 PM 10/24/05 -0500, Marv [mgnut at core.com] wrote: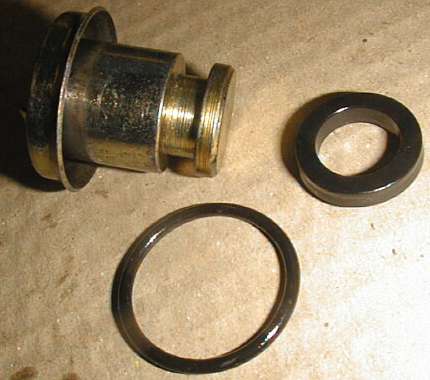 "MGA .... front wheel cylinders.... These cylinders are the type that use the "donut" lip seal rather than the cup and expander as original. Do you know of replacement parts for the later type cylinders. Moss seems to say 'no seal kits available'. I find that hard to believe."

I plead ignorance. I have not seen this type of wheel cylinder in an MGA before. Does anyone know if it was ever "officially" used in the MGA (1500)? If not, does anyone know what other car(s) may have used this type of brake slave cylinder?

At 2005-10-29 14:45:24 (UK time), Jim Ferguson from North Carolina wrote:
"That cylinder was and maybe still sold as a replacement for the origional cylinder. I got a set of these from Victoria British about 10 years ago. I rebuilt them last year with kits that just become available from Scarborough Faire. Previously no repair kits were available. I don't know who sells these type cylinders now. But call SF for the kits."

There you have it folks. Score one for the internet.

---
Marv did some more research and found this:
" .... found a cross reference to Hillman, Morris Minor seals that have same dimensional qualities. ....
Moss Motors essentially says "Tough" buy new cylinders! Ditto for Victoria British. These cylinders are dimensional equivalent to the originals 15/16" or 23.8mm bore size with 25mm cups and/or "donut" seals. Plan "B" would be to mill the aftermarket "ram" cylinder down to .870" [length] which would eliminate the entire groove that now accepts the "donut" seal. Then buy the spring/expanders from Moss or Vicky Brit and use original cup and ring rebuild kits which are Lockheed p/n LK11496."

Then at 02:30 PM 10/29/05 -0500, Marv wrote:
"Just got off the phone with S.F. and ordered the seal kits. Their p/n is M63R for the aftermarket cylinders and M63 for the original cylinders. Cost per kit is $5.35 (October 2005). There was a write up in the MGA Register Magazine some time ago about Moss and Vicky Brit selling the aftermarket cylinders but no repair kits. S.F. are the only ones apparently that have these kits. She said Twist is aware of this as is Moss and Vicky Brit but the latter two will never tell you about it."

---
Peter Caldwell (World Wide Auto Parts in Madison, WI) writes:
"These aftermarket cylinders are made in Italy. The manusfacturer (LPR, I believe)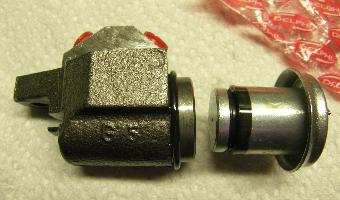 makes many different repro cylinders for old and current models. I have documented the internal sizes and figured what works for some of the applications. Not for A's yet. They are all manufactured to metric internals, and the seals are quite common to non-English and American cars."