The MGA With An Attitude
DUST SHIELDS For Disc Brakes - BT-125
From Workshop Manual Section MM.11:
Disc Brake Dust Covers which reduce inner pad wear have been fitted to the cars from Chassis No. 102589 (disc wheels) and Chassis No. 102929 (wire wheels). The covers may be fitted in sets to earlier cars.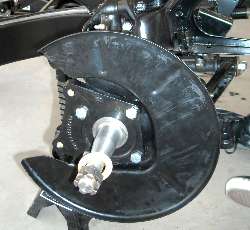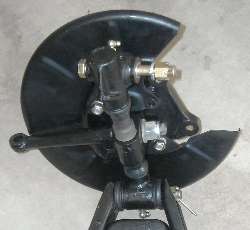 To fit the covers proceed as follows:
(1) Remove the front hub assembly as detailed in Section KK.1.
(2) Remove the adapter plate from the steering knuckle and discard the adapter plate bolts, washers and nuts.
(3) Refit the adapter plate to the steering knuckle, using bolts (Part No. HBZ0611).

Assemble the distance washers (Part No. BTB386) and cover (Part No. BTB384 [R.H.] or BTB385 [L.H.]) to the bolts and secure the bolts with spring washers (Part No. LWZ206) and nuts (Part No. FNZ506). Tighten the nuts to between 35 and 40 lb. ft. (4.83 and 5.52 kg. m.).
(4) Reassemble the front hub as detailed in section KK.2 and insure that the caliper securing bolts are tightened to between 45 and 50 lb. ft. (6.2 and 6.9 kg. m.).



There are mixed emotions about these parts. They do indeed reduce wear on the inboard brake pads, possibly as much as 50%. How much that matters to you may depend on how much you drive the car. If the inboard pads might last 20,000 miles without the shields, and you don't drive the car much, maybe it doesn't matter at all (except for concours show). Racer types will commonly remove the shields (if fitted), because they are excess weight and may interfere some with air cooling of the brakes. The shields also make maintenance a bit slower if you need to remove the swivel links to R&R the swivel seals.

As a side note, on 12 February 2002, Frank Graham <!-frankgraham at msn.com> in New Jersey, USA, wrote:
"This is one of those items that is listed in the service parts list as having been introduced about a quarter of the way into the MKII production. .... My 1600 roadster produced in October 59 had them when I bought the car 30 years ago. So did my brothers 1600, an early '60 car that he bought 29 years ago. A few years later he replaced it with a 1600 coupe built late '59 and it also had the dust shields. Could all three of these disc wheel cars have been retro fitted with these? Not a chance, remember that in those days there were no official recalls or upgrades performed by dealers. Ninety-nine percent of the cars remained mechanically the way they rolled out the dealer's door".

So, it is what it is, maybe? Perhaps others may report dust shields on pre-MK-II cars.