The MGA With An Attitude
All Around Disc Brakes, Wilwood on MGA - BT-207
On Feb 9, 2017, Bill James <!-billjamesSTJames at msn.com-> in Southport, North Carolina, USA wrote:


"I converted my 1500 to Disc Brakes all around. I used Wilwood. The fronts where pretty straight forward. I used a 1600 Disc brake adapter and then found a Wilwood adapter to mate to it. I was able to use a standard 1600 front rotor.


The rears where another matter. Since I wanted an emergency brake as needed for street use. Wilwood lists a lot of Brake Kits to convert rear brakes. I found that a 1964 6 cylinder Ford Mustang had the same wheel stud pattern as a MGA. The kit included 2 calibers, rotors, and mounting plate that attached to the axle flange. Also inside the rotor hat mounted small shoe brakes that ran the emergency brake system. They also supplied a cable(s) that easily attached to the original MGA brake lever.


The only problem (Big One!) was the backing plated holes didn't match the 4 bolt MGA axle flange and the large center axle shaft hole. I contacted Wilwood who along with the kit sold me 2 blank backing plates. It took 2 days of careful measuring and drilling with my drill press to get the center hole and the flange holes in the correct place. If you look at the axle flange without the axle in place you will see a "shoulder" that is about 0.080-inch deep. That took the longest to cut, but needed to "nest" the backing plate tight to the flange.


Once all that was done getting the correct MCs and brake bias took several months. But I like the look and it seems to stop better (if I try and recall driving the car 40 years ago). Also I enjoyed the engineering challenge.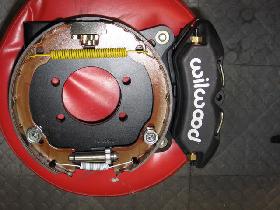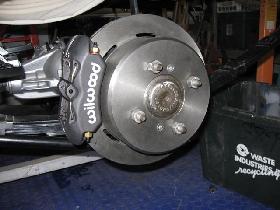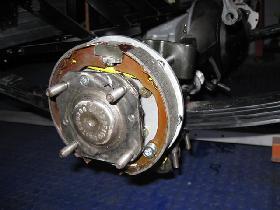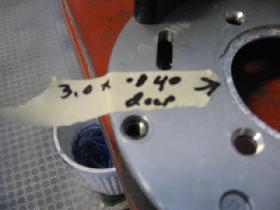 I also had to grind a little bit of metal off the back side of the wheel studs so it won't contact the brake shoes when the hub rotated. Also the minimum inside radius of the road wheel has to be 6.5 inches +0.080. so as to not make contact with the edge of the caliper. The kit with the extra parts was almost $1,000, and I bet I took 40 hours (free retired time) to get it to fit. So when you see a bolt on kits for $1500 you can understand why". -- Bill