The MGA With An Attitude
MGA NUMBERS TECH -- BUY-101C
Chassis Number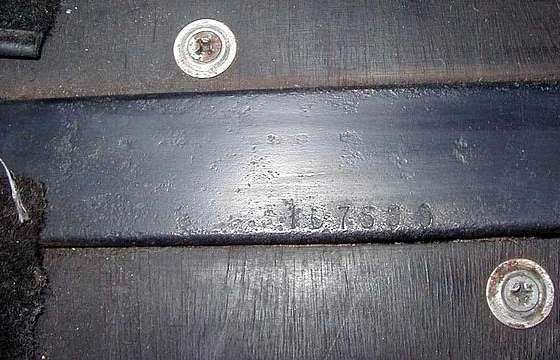 Chassis number stamped in frame below hand brake lever
There is or originally was (usually) a chassis number stamped into the top of the lateral frame rail (under the carpet) near the tunnel on the right side (basically below the ignition switch). Supposedly the chassis number should be the same as the Car Number on the ID tag screwed to the heater shelf. Check this off site link to Chassis Identification (PDF document) for more detail of location and size of this stamping. This number is not stamped very deeply into the metal, and it is often obliterated by any attempt at cleaning off rust or glue during a process of repainting the frame in that area. It may even simply evaporate through the process of accumulating decades of light surface rust, so don't be concerned if you can't find it at all. And even if you should actually find a legible number there, it is also not uncommon for a frame to find it's way into a different car during restoration or repair. This is happening more commonly as time passes. I know a few people who are currently in the process of installing a replacement frame (used/repaired salvaged from a different MGA) during a restoration.

Also see "MGA Archeology - Chassis Identification" by Robin Barker
From MGA Register 2005 Yearbook. (4-page 0.7-MB pdf)
<!-collected from /www.mgaroadster.co.uk/technical_information.htm - Item 16->
---
Australian built CKD cars had a different Vehicle ID Plate to conform to local law. Here the vehicle type number was on the first line. The second line contained the MG Car Co factory chassis number and the assigned Austrlian car number. The chassis number and Australian car number were also stamped on the heater shelf, front and center. Prior to 1962, the chassis number was also stamped into the near side chassis member in the front wheel arch (the left hand side).