The MGA With An Attitude
K&N AIR FILTERS -- CB-201-14
One last look from the front, with the intention of keeping the original appearance as much as possible. Of course if really wanted to show off those new K&Ns you could leave out the outer screen. Or if you're inclined to flash more in that direction you could just as well have used the chrome covers that come with the retrofit K&N filter mounting kit and save yourself an hour of fiddling around. Personally I don't like the look of chrome under the bonnet of an MGA, just doesn't look right to my eye. But then that's just me trying to keep a low profile. You are of course allowed to touch up the paint on the original black metal parts.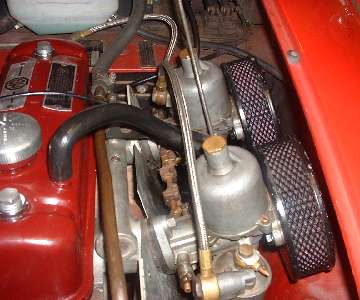 Ah, now I can get back to those nice rally roads without worrying about the dust eating up the innards of my new engine. Y'all drive 'em till they drop now.

Cheers,

Barney Gaylord
1958 MGA with an attitude

P.S.
More recently brought to my attention, the additional part number for another K&N filter element that may fit even better than the one shown in this installation.

E-3180 5.875-OD 4.500-ID 1.750-H (Shown here)
E-3211 5.875-OD 4.875-ID 1.750-H (alternate)
E-3212 5.875-OD 4.875-ID 1.813-H (alternate)

While the E-3212 is 1/16" taller, it still requires a little grinding of the height of the screens to fit properly by itself. It may fit okay without grinding the screens if you install the original type felt pads on both sides of the filter element. Considering the felt pads are an extra cost part, and they are not required for proper sealing of the K&N filters, I would prefer to grind the screens a bit instead.

An important feature of the E-3211 & E-3212 filters is the narrower section width of the filter element (larger ID). This should make it easier to fit around the vent tube in the front air cleaner assembly. Any difference in filter area is insignificant, as either of these filter elements has about four times the filtering area required to pass enough air for an engine this size.

Addendum May 2005:
Moss Motors has recently assembled a kit to make this conversion easier. See Moss part number 222-928. It contains two K&N filter elements, four felt gasket rings, and instructions for assembly. I haven't verified it yet, but I believe the filters are K&N number E-3212.