The MGA With An Attitude
CARBURETORS You May Find on the MGA -- CB-101
CB-101 is a quick review of a variety of carburetors you might find on the MGA. All MGA (except the Twin Cam) used twin SU H4 carburetors with 1-1/2" throat size. These had the float chamber on the side with fuel connection to the throttle body through a banjo bolt with rubber grommets. This gave limited vibration isolation for the float chamber, but these carbs might have some minor fuel leakage around the rubber grommets and main jet on the bottom. That is easily fixed using Viton grommets for the float chamber mount and Teflon O-rings for the main jet seals. The MGA Twin Cam used SU H6 carburetors with 1-3/4" throat size (mounted on the opposite side of the engine).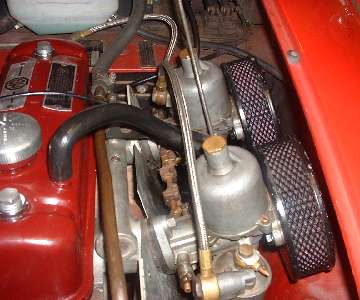 Original type SU H4 carburetors on pushrod engine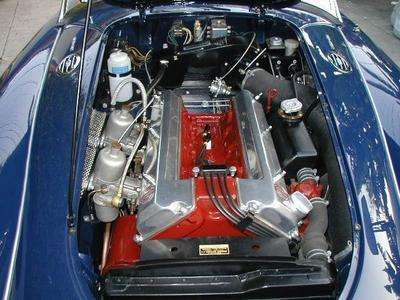 Original type SU H6 carburetors on Twin Cam engine

MGB from 1962-1971 used SU HS4 carburetors. These are similar to the H type, but have a small hose on the bottom connecting the float chamber to the main jet, which effectively circumvents the jet leakage problem (but the hose connection is a bit delicate, especially with age). The MGB from 1972 to 1974 used SU HIF4 carburetors. These have the float chamber internal in the base of the carburetor, and the bottom of the carb is square (no float chamber on the side). So far any of these can work okay on the MGA. The 1975-1980 MGB used a single Zenith-Stromberg carburetor mounted on an integral cast iron manifold incorporating intake and exhaust, and connecting to a catalytic converter. This is the worst of the worst (performance wise), and you should hopefully never see this on any MGA.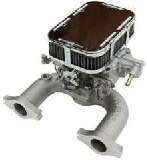 Occasionally you find a Weber two barrel downdraft carburetor on a matching intake manifold. This is generally functional (although a bit smaller than the original SU carbs), may give better starting and driveability with a slight loss of top end power. This would usually be done in a prior life when the original carburetors might be worn out or missing, or when some misguided soul was convinced the the word "Weber" would make the car go faster (or at least be more impressive).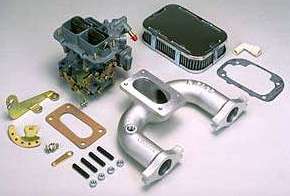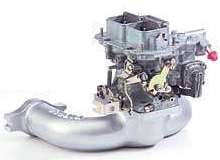 If someone was a performance enthusiast, you might find dual SU H6 or HS6 or HIF6 carburetors, which are similar to the #4 counterparts, but having 1-3/4" throat size and a 4-bolt mounting flange. If nothing else is modified, such an increase in throat size may do very little for performance except for a minor improvement in torque at engine speeds above 5000 rpm. You might also get a drop in torque below 2000 rpm, possibly a slightly rough idle, and a little loss of fuel economy. For good effect the larger carbs should be accompanied by some porting of the cylinder head, or possibly a change of head with larger intake valves and better porting and a better exhaust manifold or tubular headers.

If someone was a maximum performance nut, you might find a Weber dual side draft carburetor, which has the potential of giving good top end power, but can be difficult to tune for reasonable performance in daily driving conditions. These may not be much different than the SU carbs for top end performance. A Weber 40DCOE (40mm throat) would be close to the SU #4 carbs, and a Weber 45DCOE would be close to the SU #6 carbs in performance. Flat out racers may prefer the Weber for a small edge on far top end performance. Vintage racers may prefer the SU for appearance and ease of tuning.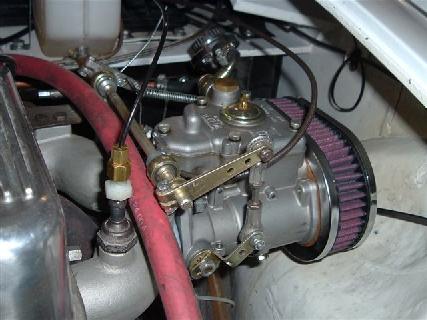 Weber 45DCOE side draft carb for pushrod engines