The MGA With An Attitude
BILGE BLOWER To Cool Supercharger, 3-inch #1 -- CB-208A
These are first pictures of a 3-inch bilge blower installed in the MGA. You cannot even see the blower in those pictures, as it is hidden inside the 4-inch steel air duct on the radiator mounting diaphragm. Click for larger pictures.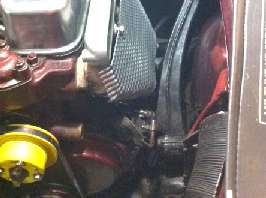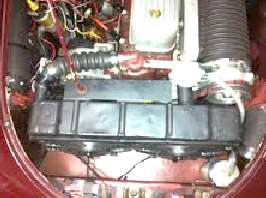 These pictures are from Neil Ferguson in Victoria, Australia, as part of his Judson supercharger installation. You can see the red-painted 4-inch steel air duct at the far right side of these pictures. The 3-inch blower is hiding inside there.

Niel reports:


"The blower blasts air onto the filter/carb area and is totally hidden. Loads of air come out of local body vent. It does need to be thermo or manual switch controlled; I use latter. I did not have fuel vaporization problems and installed it to get more air molecules into the cylinders.


"See also the twin 9-inch fans I put in my car, thermo controlled (you can just see the control unit under the hose on the left). The fans turn off when the ignition is turned off. One cautionary note: after I installed the fans I was having flat battery problems, even when stopping during a drive. I have replaced the original generator with an alternator, and battery problems have disappeared.


"Impossible to take a decent photo from either side, especially with the Judson now in position. I also had to bend a short section of the metal duct to avoid interference with the Judson pulley. I removed all the concertina duct from the metal duct and I chopped the two feet off the Attwood 3-inch fan. I located the fan inside the metal duct, then drilled two clearance holes through the metal duct from the outside. Then holding the blower inside I marked the outside of the blower housing through the two holes. I then removed the blower, ensured the marked holes where in a part of the blower housing with good wall thickness (not aligned with the fan blades), and drilled two small holes through the blower housing at the markings. I wrapped a thin strip of semi rigid foam around the blower at the position of the holes to pack up clearances. I then used two fat self tappers to fit through the metal duct holes and thread into the blower housing. It is very secure. I also padded around the remaining annulus between the blower housing with semi rigid foam. Finally I installed a section of concertina duct on the suction side, mainly to totally hide the blower. It is still noisy at idle so best to have it switched or controlled by a thermo. But the blast is really good. I am very pleased with the result".