The MGA With An Attitude
BILGE BLOWER To Cool Carburetors, 3-inch #3 -- CB-208C
Now this is really slick.

On 24 June 2012, P N (Pete) Tipping in Hampshire, UK wrote:


"The suggested 3-inch Attwood blower looked good, and coincidentally an MGA pal discovered the perfect rubber pipe reducer (Code NAC0752 from Evolution Aqua) which by a pure fluke is a nice push fit both onto the blower (see pic here) and into the duct. As well as cutting off the feet, I removed 12mm from the outlet end where it pushes onto the reducer to clear the bend in the front flexible 4" duct (not removed in pic),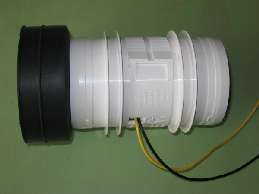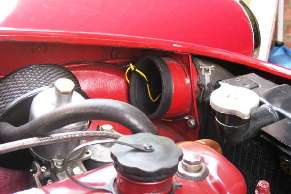 "As yet we haven't had any really hot (by English standards) weather yet this summer to test it out, but so far any restriction of aiflow by this stationary 3" fan has not appeared detrimental at normal driving speeds. I have fitted a manual switch so I can play with this new toy properly when the 'vapours' hit!


"Here the assembly is simply pushed in and that's it. I find the lack of holes or mods to the car the important thing here. I'll neaten up that wiring later - at the time I just had to see it run. With engine running I can't hear the fan which is quieter than the up front Kenlowe anyway. What do you think"?