The MGA With An Attitude
RADIATOR HOSE - Alternate Sources - CO-109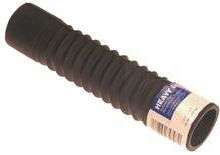 This article originates from a 15 or 20 year old note in A-Antics Tech Tips that turned out to be wrong. It suggests using a radiator hose from an early 1960's Ford Falcon for the MGA, but that one turned out to be 3 inches too long. For many years the correct hose for the MGA has been available for a resonable price through the common British car parts suppliers, so this has been a non-issue, until now. For at least a couple years through 2005 and 2006 some after market hoses have been poor quality. Most of this time a better OEM type hose has been available, so we could have a choice. But recently the OEM type has disappeared from the market, and quality of the replacement type hose has changed to much worse than in the past. So it became time to resurect the search for a reasonable off the shelf replacement radiator hose for the MGA (and MGB).

The hose should be 1-1/8" ID x 6-3/4" Long
I have no idea who might make a flex hose with 1-1/8" bore, but there are lots of them available in 1-1/4" bore. Once I get the dimensions right (within reason) this is a very common hose both as original equipment as as a replacement for a lot of OEM applications.

I finally find one under a Dayco part number:
www.daycoproducts.com
Dayco 81011 = 1-1/4 x 7-3/8
That is 1/8" oversize, but would easily pull down tight with a worm drive hose clamp. It is over length by just 3/8" at each end, so it might even work without trimming.

The rest was easy after finding a cross reference function on the Dayco web site, and also this huge NAPA cross reference: http://www.napabeltshose.com/resources.aspx
The NAPA hose is 7-1/2 inches long, but for many of the cross reference numbers it says to "cut to length", so many of the other hoses noted will be a little shorter.

Some cross reference part numbers are:

AC Delco 31608
Atlas (Canada) A507
Autopar RH13
Autozone C6402
Carlisle 507
CarQuest 25249
Dayco 1107
Dayco 81011 or DY81011
Durkee-Atwood 507
Ford A9AZ-8260-A
Gates 25249
Gates 26402
Gates VF2
Goodyear 1107
Goodyear 52007
Hyundai 2350-15-185
John Deere R54534
MG AHH5143 (original no. for 1-1/8 x 6-5/8 hose, cross references from NAPA FF181, which is 1-1/4 x 7-1/2)

Mighty 1107
Mobile 5M7
Mopar BH601
Motocraft KA074
NAPA FF181
NAPA FM01 (discontinued, see FF181)
Pep Boys (Dayco 81011)
Shell 1002
Sonoco 549
Texaco 102
Ultralast C6402
Unical 1107
Uniroyal 5007
Uniroyal 5008
Western Auto 77-8300-4

The Dayco part DY81011 is spec'd to fit a long list of cars. See here:
http://www.racepages.com/products/?N=0&uts=true&Ntt=DY81011
Some of the newer ones are:
2002 – 2005 Lexus IS300
2002 – 2005 Mini Cooper - - - TA-DA!!! - That's current.
1993 – 2001 Nissan Altima
1999 – 2004 Rover Discovery

So now you can get your MGA radiator hose at a local auto parts store, a local car dealer, a number of service stations, or maybe even a tractor dealer.

---
Addendum July 2013:
On 7/13/2013, Matt Giesbrecht <!-mwgiesbrecht at gmail.com-> wrote:
"Goodyear now sells a flexible 1 1/8" ID radiator hose in varying lengths. Take a look", http://www.goodyearep.com/productsdetail.aspx?id=10520

The first Goodyear part number is 52109 1-1/8" x 9". There is a straight section at each end, so you can easily cut it down to get from 9 inches to 6-3/4" long.

Available from:
www.rockauto.com
www.davesdiscountautoparts.com - (search for 52109).

---

Addendum, 2/17/2016:
Here's a tip from Russell Goebel <!-auslander2010 at gmail.com-> in Australia. There is a correct size good quality hose, 1-1/8-in (28mm) ID x 6-3/4-in long. The supplier is an Australian company, Mackay Consolidated Rubber Technology, an OEM supplier since 1932.