The MGA With An Attitude
AIR DEFLECTOR For MGA Grille - CO-206
This article was submitted by Roger Bailey in August 2006.

Here are some photos of the air deflector. I was put on to this idea by John Rubel at the 2006 Gatlinburg All-MG Meet, and have taken his version a bit further. Whereas his material was 1/4" Plexiglas, I chose to make mine out of thinner but tougher 0.090 Lucite-Tuf, which is Lexan like in performance, yet which still bends with a hot air gun and costs much less money.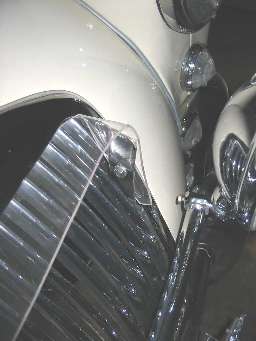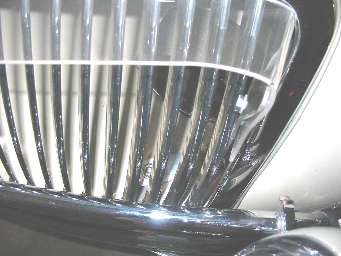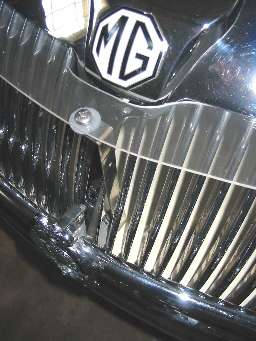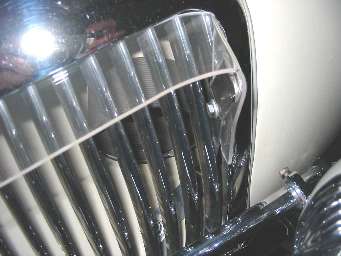 John was able to wedge his device between the side-most slats and the shell. I could foresee two problems: Firstly, the risk of damage to my original shell was unacceptable, and I worried that any unsecured device in the air stream might become a projectile. The Lucite-Tuf tucks under the bezel along 7/8ths of each side until it nears the side or center mullion. There, the plastic is made to clear the chrome at the turn-downs or where it arcs across under the MG medallion.

I decided to anchor it in three places, using the three lower grill shell bolts. The length of the bolts was changed to accommodate washers, along with the stainless steel straps. These straps were made from SS barbecue tongs, on sale at K-Mart, and which can be easily drilled and readily bent with a propane torch. A number of cardboard templates and several cut / bend attempts were needed (using simple Lucite) were made before I achieved worry-free clearance from the chrome, along with adequate security.

The projection is 2", and the deflector horizontal. I have done no tests with a greater projection, in part because the 2" looks decent, but a 3" (say) might not. However, it is possible the effect would be greater still by increasing the projection. I made no attempt to flair the sides, or experiment with the angle of the deflector. It is possible that a slight upward angle might increase the benefits at speed, but again the appearance may not then be satisfactory.

The result of having this device on the car at 100 deg-F ambient is an approximately 10 degree reduction in coolant temperature. I must attribute some other gain to the removal of two badges from the badge-bar, but I could readily drive the temperature over 225 before this modification. I cannot reach quite 215 after the addition, at any speeds.

Cheers
Roger
---
Here'a another version of a grille eyebrow, photo taken at NAMGAR GT-33 in Silver Springs PA in July 2008. This one is a little simpler in the attachments clips. With a few hooks and a little spring force is can be installed or removed in seconds with fingers only.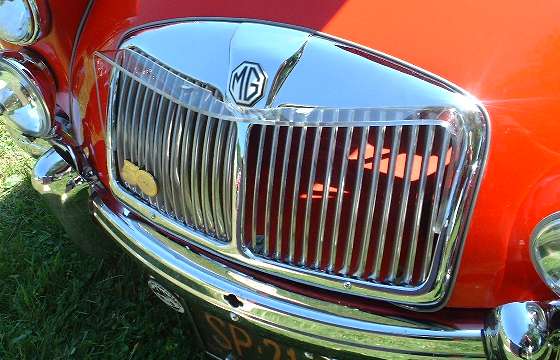 Also check this: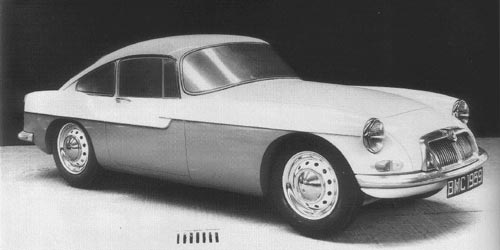 This is (was) a factory prototype proposed as a successor for the MGA Coupe. Take a close look at the eyebrows on the chrome grill. Perhaps the factory was investigating this issue many years ago.