The MGA With An Attitude

MGAguru.com
MGAguru.com
MGA WINDSCREEN BRIGHT TRIM CONNECTOR,
Coupe Front and Rear - CP-103D
On 11/19/2017, Richard Mathis <!-rick at mathisfarm.com-> wrote:
"This is showing the profile of the windshield and rear window trim chrome strip sold by Moss (and others) for the MGA Coupe. The piece on top is the "joiner trim" (4 required) that covers the end joins of each of the chrome strips. As you can see... really bad profile but with some "tinkering" and bending,they will work!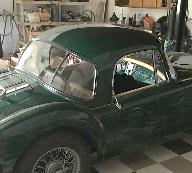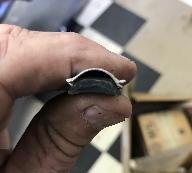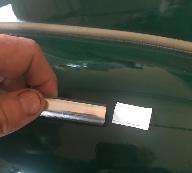 The "black piece" is actually an end view of a piece of the "shiny trim". The white is a "protective" paper that comes on the joiner piece. The remedy was to press the joiner and the piece of trim in a vice (rubber mallet could work) to get the top contour to match the shape of the trim and then shape the edges to finish shaping the joiner to fit along the edges (edges of trim and joiner end up under the rubber window seal. (Blue tape is my replacement "more protective" tape to prevent damage while working on the joiner)".