The MGA With An Attitude
Window GUIDE BRACKET Lower - CP-112G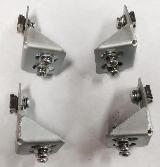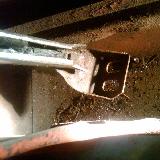 These brackets will be assembled with screws, #10-32-UNF x 3/4" long Phillips round head zinc plated, #10 medium spring lock washer zinc, #10 flat washer zinc, and #10-32-UNF cage nut zinc, three for each bracket, two brackets for each door.

Photos compliments of
Bob Krzywicki <!-krzywickibob ataol.com-> in Arlington, VA, USA,
and Jim Cheatham <!-jimcheatham at yahoo.com-> in Amelia, VA, USA.
Dimensions compliments of Dave Adams <!-davidandpammy at btinternet.com-> in the UK.
CAD drawing by Barney Gaylord.