The MGA With An Attitude
WOOD DASH PANEL With Chrome Trim-- DT-200C
On Jan 23, 2018, Nick Kopernik <!-copernicus at optimum.net-> in western Connecticut, USA wrote:
"I have a wood dash with that chrome strip installed on my car. I transferred it over from my original MKII dash which I'm keeping in reserve in case I ever want to go back to original. The strip on the wood dash is held in place with stainless steel screws; on the original steel dash it was held in place with rivets".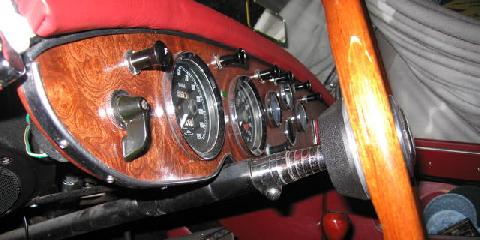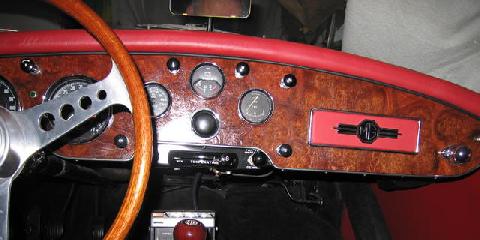 "I didn't change the original design. My dash is 3/4" furniture grade (hard) plywood with a Carpathian Elm Burl veneer. I carefully (very carefully) routed out the area where the illumination bulbs fit for the small gauges. The remaining substrate and the veneer is quite thin there and I was concerned about this when I made the dash, but there's not been any cracking or buckling of the dash & there's enough clearance for the light bulb to shine into the gauges. I believe the dash held up so well because I used a veneer that had 3M adhesive already applied to it, thereby proving more holding power. I will admit that every winter I consider going back to the original vinyl/steel dash, but just don't seem to want to change it out, at least not yet".