The MGA With An Attitude
Wiper Motor FERRULE And FLARE NUT - ET-113F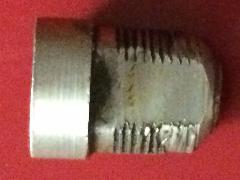 On 4/27/2017, Mark Hester <!-markhester at hotmail.com-> wrote:
"This part I've seen destroyed several times by careless previous owners. Alas the parts manuals don't give it a part number that I could find, so you can't just buy another".

The part shown (with red background) may present a problem. This is a hollow threaded fitting that is assembled on the rack cable. It can be removed from the cable once the cable is withdrawn from the steel tube. This part will be captured in the gearbox once the gearbox cover is installed. The flare nut on the rack drive tube attaches to this fitting. This fitting is often lost, or sometimes damaged. I have not found a separate part number for it, so you cannot buy a (new) replacement part.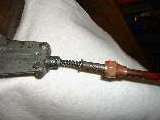 I had a slightly different but related problem in the late 70's. I had my rack drive tubes cleaned by the Redi-Strip chemical process, which stripped the brass flare nut from the pipe. The thread here is an odd size, I think 9/16-inch major diameter (or possibly something Whitworth), so the flare nut is also a special part, not generally available. My solution was to turn the threaded shank down to 1/2-inch and re-cut the thread to 1/2-UNF fine thread, making the part compatible with a standard flare nut (readily available).

Here is a possible replacement for the (MGA) ferrule. The part number is from MG Midget and early MGB. Visible difference in the part is the anti-rotation flats on the shank are between the thread and the large shoulder, not extending along the sides of the thread.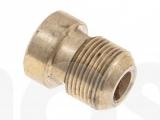 Ferrule part number: 37H5282

Applications:
MGB: 1962-67 - Roadster & GT 1962-67
Sprite IV & Midget III; 1967-68 1275-1500cc -- Lucas DR3A type to (c) G-AN4-60459, to (c) H-AN9-72040, 1275cc
Triumph TR3-3A: 1956-61
Triumph TR4-4A: 1961-67
Triumph TR5, TR250: 1967-68

On 5/18/2017, Mark Hester wrote:
"The Moss part is almost perfect. I just sanded 0.2-0.3mm off the brass face and the MGB part # 37H5282 fitted perfectly".