The MGA With An Attitude
TAIL LIGHT LENSES - ET-118A
On 14 May 2012, J Bray in Bedford, UK wrote:


"Just a word of caution. There are many reproduction lenses available for the Lucas type L549 rear light lens fitted to the MGA. The one that I ordered recently, was in my opinion far to dark in colour, and of particular concern, allowed very little light to be transmitted through the lens making it quite dangerous. The lens was purchased from eBay and the vendor replaced it without any problems. Picture shows original lens to the left, replacement on the right".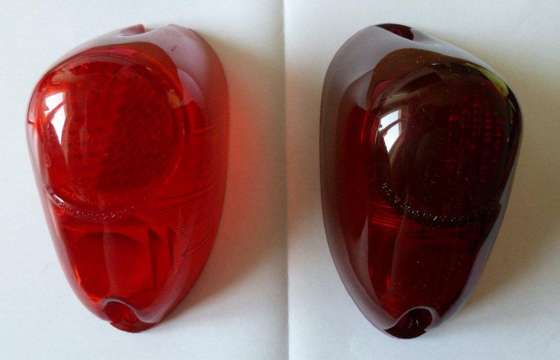 Tail light lenses, two different colors

Matthew Randell in South Australia, Australia, replied:


"I had the same problem. Ordered two, including bases from Brown and Gammons. They came as two different colors. Very irritating. Also, one had a twin filament globe, as needed for my 1600, the other a single. This makes me think they could be for different applications. I emailed B & G but couldn't get a reply. I ended up polishing the original lenses and using them".

Jim Mail in New Hampshire, USA, wrote:


"I had the same issue - mine are still two different colors. I ordered from Moss about 4 or 5 years ago, though - so it has been a problem for a long while".

On 18 May 2012 Jim Mail wrote:


"I got one on eBay today that looks to be NOS and is very pale in the picture. I hope they match! I remember seeing a blue MGA at a show that was a one-owner car since new. The dad died and the son had it mechanically tuned up, but it still had all original paint, bodywork, upholstery, etc. The tail light lenses were sort of light red-orange, and he said they always had been. So, I imagine there were variations in color even back in the day depending on the supplier and batch".

Barney Gaylord:


"I'll toss my two cents in here. My experience has been that all tail light lenses are medium red, like the one on left in picture above. I have usually bought these from Moss USA on several different occasions over the last 25 years. I also picked up a couple at a swap meet, origin unknown. Maybe I was just lucky, but they have all been the same color, so I was pretty much unaware of the color variation problem. I probably wouldn't object if they were slightly lighter orange-red, but I agree that the dark red ones may be a safety problem with too little light transmission.