The MGA With An Attitude
BRAKE LIGHT SWITCH Failure, Intermotor - ET-119X3
Intermotor 51600
On 7/16/2017, Robert Gillam <!-abomanat me.com-> wrote:
"Over the past 2 years I have had to replace my Mk2 brake switch twice. I think the Intermotor 51600 one is not very well made. I have managed to source a Lucas one now and will let you know how long it lasts, hopefully longer than 10 months the 51600's have lasted. I cut the Intermotor ones in half to explore why they failed".

On 7/18/2017, Robert Gillam wrote:
"The car does only minimum mileage ...approx 500~700 per year, predominantly in the clement weather months and it is then garaged in a dehumidified atmosphere".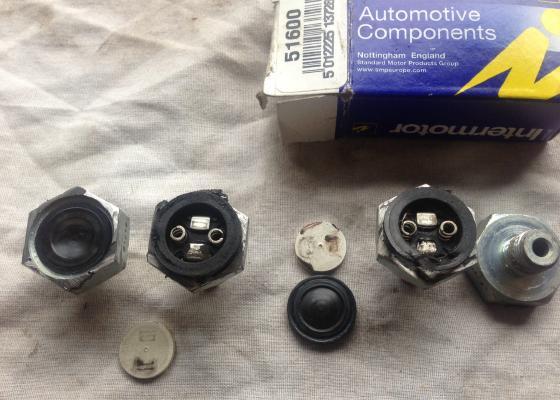 Similar construction of other commonly failed pressure switches, a flat plate pressed against two fixed contacts, slow-make and slow-break action leading to arcing and ultimate burning of the contact surfaces. I don't know the type of plating on the contacts, but apparently it is of no consequence, as it soon fails regardless.