The MGA With An Attitude
OIL FILLER CAP Installation - CV-104
On 28 October 2008, Mike Ellsmore in Victoria, Australia wrote:
"What was the original filler cap retaining cord made of - was it braided wire? Does anyone have details of how it attaches to the neck of the rocker cover?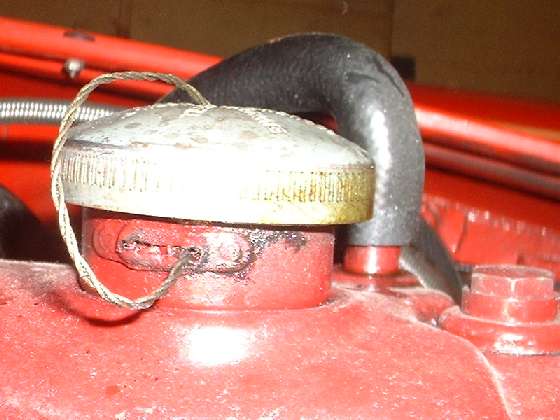 The oil cap is tethered with a small steel cable emanating from the center hole in the cap. Both ends of the cable have a small metal bit permanently attached, so the cable would normally be a permanent part of the cap from original manufacture.

There is a small oval cup plate with a keyhole slot riveted to the side of the filler neck on the valve cover. Slip the end fitting of the cable into this slot and crimp the metal plate narrower to close the slot and hold the cable end. See picture attached.