The MGA With An Attitude
Engine OIL COOLER Installation, Competition Type, 5 - OF-105C5
On Feb 21, 2013, Dave Sirota <!-dave@bassukbrothers.com-> wrote:
"My car YD3-2087 was sold through Precision Motors in Tucson, AZ. I am the second owner. As I've begun the restoration I'm learning the car is quite original. The car was bought (ordered by?) a son of one of the partners of Precision. To the best of my knowledge the car saw very little street use and was mainly a race car. The managing owner of Precision was Jack Rowe who was a respected racer and later became an early SCCA Region 7 Governor (So it makes sense that he would know what options to order for someone that wanted to race the car).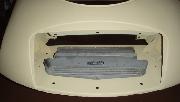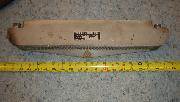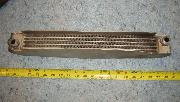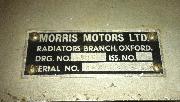 "I assumed the oil cooler set-up on the car when it came into my hands was something the previous owner put on the car for racing. Now appears it might be the factory competition oil cooler installed at the factory (See Barney's articles OF-105C2 and OF-105C4. A hole, similar in placement and size described in Barney's article was cut into the radiator duct panel. The hole was crudely cut with a torch. The oil lines are not the stock steel lines, they are rubber 1" OD. The way the fittings are attached they were manufactured, not home made. The line with straight fittings runs from the oil filter base to the cooler. Stamped on the fittings is AEO I9844 ISS5 YA 1402 (this is likely the fitting part number). The line with the 90 degree fitting on one end runs from the rear of the block to the cooler. The straight fitting on this line is marked the same as the other line's fittings. The 90 degree fitting is not marked. A band on the hose is marked PT WDH 103B/44-43 AHH 5612 12/57. The air scoop is aluminum with nice looking welds".