The MGA With An Attitude
Engine OIL COOLER, Thermostatic Bypass Valve - OF-105F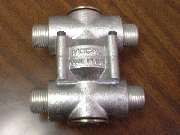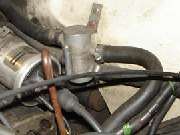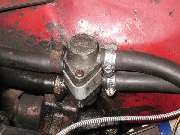 Pictured here is a thermostatic bypass valve (a few different models) for an oil cooler. Photo at left is a MOCAL part with AN threaded fittings. Center photo is a MOCAL part with hose barb and clamp connectors. Photo at right is a Serck Speed part with hose barb and clamp connectors (and has a hose leak). What they all have in common is an "H" style flow pattern. When oil is warm (above 140dF) the valve in the center of the "H" is closed to force oil to flow straight through both sides en-route to and from the oil cooler. When oil is cold (below 140dF) the center valve is open to allow oil to make a U-turn through the valve to pass from engine supply back to the oil filter without going through the oil cooler. Cold viscus oil in the oil cooler inhibits flow through the oil cooler when the bypass valve is open.

Photos below show the oil cooler bypass valve connection kit (without the oil cooler radiator). The kit contains the AN threaded thermostatic bypass (first photo above), a valve mounting bracket, four connector hoses, and an installation instruction sheet.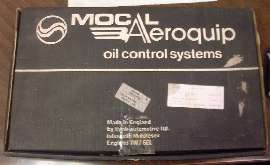 This particular kit has hose lengths designed for a chrome bumper MGB. Different length hoses can be used to reposition the valve fore or aft to suit different applications.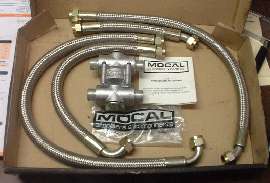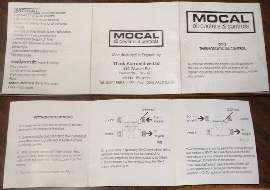 I had intended to install this kit on my MGA, but the hose lengths in the kit positioned the valve too far forward where it ran into the engine radiator mounting panel. With MGB the inner fender is a bit farther outboard, and the valve can be mounted higher on the inner fender, so the valve will sit a bit farther back.