The MGA With An Attitude
OIL PIPING, External Lines and Fittings.-- OF-110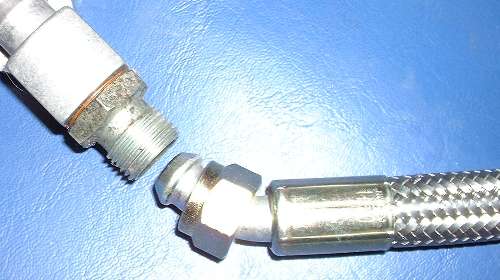 You may be wondering why you can't find a wrench to fit the oil cooler couplings. Or you may be thinking of having connector hoses made up by a local hydraulic shop. In case you get only puzzled looks when presenting the fittings for matching couplings, here's why. The fittings on the block and filter adapter as well as for the oil cooler have BSP threads.

The external oil line fittings for the MGA (and MGB) have a 60 degree included angle male taper nose and female taper seat which makes the pressure tight seal. The threads are 1/2-14-BSP. That's British Standard Pipe threads (straight threads) with 0.826" OD. Standard AN or UN or SAE threads will not mate with these fittings.

Furthermore, for a perfect wrench fit you need a 9/16" Whitworth wrench (.920" max hex size). In some cases you may be able to use a cheap and loose fitting 23mm open end wrench (0.906 minimum opening), depending on tolerance buildup, but it could still be a tight fit if it goes on at all. A 15/16" wrwnch will fit a little loose, but might take the corners off the nut on the first pull. For years I have been using a 12 inch adjustable wrench, but some long assembled oil cooler fittings simply refuse to come apart. Damn! Here I thought there were no Whitworth wrenches required for the MGA.