The MGA With An Attitude
FLOORBOARD TEMPLATES - FR-112
At 09:13 PM 2/19/2007 -0400, John DeWolf in Halifax, NS, Canada wrote:
"Attached are the PDF files for the floor boards. I decided not to include full size template files as someone could take the letter size drawings to a printer and have them plotted at 400% to give full size templates."

GRID - 1" SQUARES


HOLE FOR FIXING SCREW
The location of these are not dimensioned as they seem to vary on individual cars. Transfer existing holes in support rails to new floorboards with a drill or transfer punch from underside. Locate new holes visually from the plans.


HOLE FOR SEAT SLIDE BOLT


CARPET STUDS

Click here to open the PDF file. Print these at 1:1 on letter size paper for 1/4 size prints and transfer the information by hand, or have a print shop print pages 2 to 6 at 400% for full size patterns. Full size prints will be 34" x 44".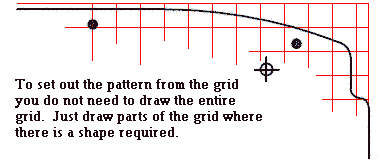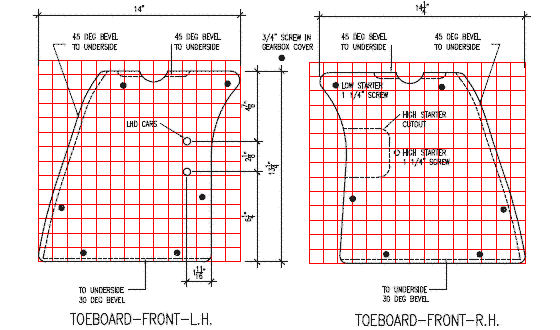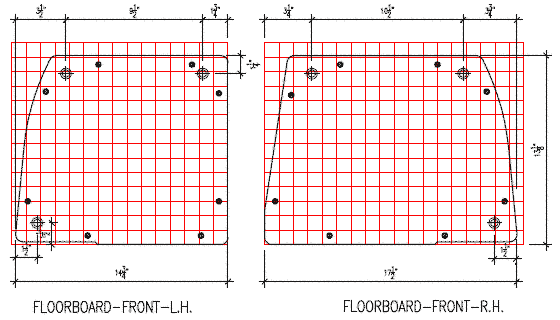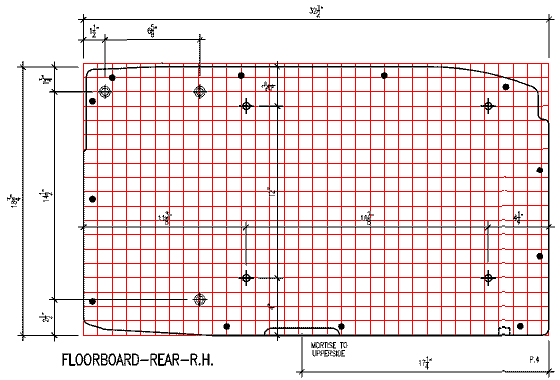 Notice: For rear floor boards immediately above and below. -- When installing Competition Deluxe Seats, screws for the seat mounting will be in different location.


On 10/27/2013, Garry Kemm <!-mgkemm at bluep.com-> wrote:
"Location of the slide rail bolts in the floor by referring to page 29 in Todd Clarke's booklet 'MGA Owner's Information & Technical Guide'.

The only different dimensions are:
1. The 4-1/4 inches from rear edge is 5-3/8 inches for Deluxe seats.
2. The 4 inch from tunnel side is 4-1/8 inches for Deluxe seats, although this difference may just be manufacturing inaccuracy.
3. The spacing between rails of 12 inches is 11-7/8 inches.

[Additional note From Barney]: That puts the holes for C/D seats about 1-inch farther forward. Beyond that, another 1/8-inch discrepancy one way or another may be irrelevant. In particular, I'm pretty sure the C/D seats have the same 12-inches between slide rail bolts.