The MGA With An Attitude
REAR SEAL for MID 1500 Gearbox, Interchange List - GT-111B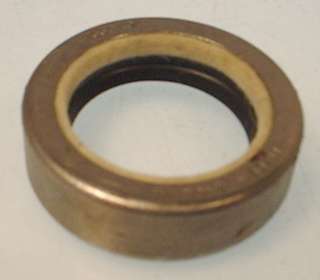 Here is a picture of the original style rear seal for the MGA mid 1500 type gearbox. Originally it had felt and wide leather seal, later changed to felt and wide rubber seal (as shown in this picture).

Original BMC part no. 1H3339
Com (G) A101 (mid 1500 cars)
Fin last gearbox before (E) GD101
(not for late 1500 and later cars)

Illustration below is an aftermarket style with felt and a rubber lip seal.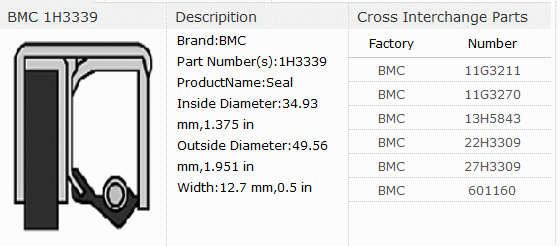 Replacement seals commonly supplied may be simple rubber lip seal with no felt dust seal. These are not very good for this application. When the shaft moves endwise while rotating it needs the felt seal to prevent pushing dirt into the primary seal. Also the single rubber lip seal does not hold up well to sliding action of the shaft.

There will be many cross reference parts satisfying the dimensions for ID and OD. Some of the referenced seals may be narrower (especially when lacking the felt dust seal). If used, these should be installed flush with the back edge of the rear housing.


Direct Cross Interchange:
ABC				71550095
APAX				S4907
APAX				S4911
APAX				S5033
Bearings Inc			1488725
BECK/ARNLEY			0523648
BMC				11G3211
BMC				11G3270
BMC				13H5843
BMC				1H3339
BMC				22H3309
BMC				27H3309
BMC				601160
BMC				9891
BMC				C9891
CHRYSLER			9102074
CHRYSLER			MD950807
CHRYSLER			T3460
CR				516080
CR				550073
CR				5500955
Daimler-Benz			9891
Delco Moraine			293224
EATON				X13089
FORD				204E7657
FORD				211E7657A
FORD				P211E7657A
FREIGHTLNR			CHR550095
ISUZU				0099243130
L&S Bearing			71550095
L&S Bearing			A45471S
L&S Bearing			A45495
L&S Bearing			A45534
MITSUBISHI			MD950807
NAPA				47579
NATIONAL			1097
NATIONAL			1097N
NOK				AD2002E
NOK				AD2002E0
PAYEN				B430
PAYEN				NA121
Precision Seals & Bearings	1097N
REPCO				11709
REPCO				2114520
REPCO				P4520
REPCO				PR4501
REPCO				PR4776
REPCO				PR5535
REPCO				PR6199
SEALED POWER			N550095
SKF Automotive			OS550095
SKT				40224
STEFA				S4002
STEFA				S4457
TIMKEN				1097N
TROSTEL				A45495
VERA				6501984
VICTOR				44020
VICTOR				44025
VICTOR				47579
VICTOR				66830
VOLVO				235728
VOLVO				2357283
WESTON				WL134
WESTON				WRD26

Indirect Cross Interchange:
ATP				RO4
ATP				RO47
ACDelco				293224
BAP/GEON			B430
BECK/ARNLEY			0520403
BRITISH LEYLAND			11G3211
BRITISH LEYLAND			11G3270
BRITISH LEYLAND			1H3339
CHICAGO RAWHIDE			516080
CHICAGO RAWHIDE			550073
CHICAGO RAWHIDE			550095
CORTECO				19033610B
DT Components			1097N
DT Components			1987
DT Components			2443
ITM				B430
ITM				P4520
ITM				PR4501
ITM				PR4776
ITM				PR5535
ITM				PR6199
MOPAR PARTS			T3460
NATIONAL			1987
NATIONAL			2443
PAYEN				NA1622
PARTS PLUS			P1987
PRECISION AUTOMOTIVE INDUSTRIES	1987
Precision Seals & Bearings	1987
Precision Seals & Bearings	2443
SKF				13527
SKF				13568
SKF				14773
SKF				516080
SKF				550073
SKF				550095
SPIREX				S1987
TRANSTEC			B29065
TRANSTEC			B29872