The MGA With An Attitude
REMOTE SHIFT HOUSING Rebuild - GT-206
The remote shift housing for the MGA gearbox will sometimes be significantly worn. Need to repair this part will depend on how badly worn it may be, and how much you want to pay to restore nice crisp shifting action. It may be cheap to buy another one in better condition, but good used ones are getting harder to find as time passes. Repair of the old housing is a machine shop job, well understood standard practice, but not particularly cheap if you are doing a single piece.

The most common problem, and easiest to repair, is worn bores holding the remote shift rod. This requires boring out the housing (or drilling and reaming) and installing a press fit bushing, usually in both ends of the housing (first two photos). The second problem is common in more severely worn units where the spherical ball socket wears progressively deeper in the housing (photo at right). This in turn messes up alignment of the small ball on the bottom of the shift lever with the socket in the rear lever of the remote shift rod.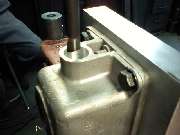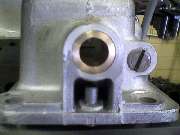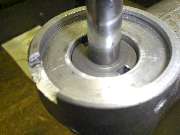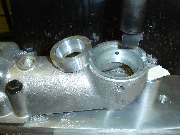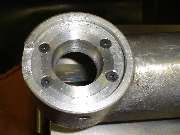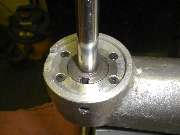 Photos supplied by Gregory Brown

Three photos above show machining of a pocket in the housing, installation of a machined insert to restore the ball socket, and final results with the shifter half-ball sitting flush at top as original. There can be variations on the way the new ball socket insert is installed, flanged and screwed, slip fit with bearing set adhesive, or tight press fit. Material for the insert might be steel for long life (if you're not concerned about rust in long term storage), or bronze (slightly more expensive) for long life and good bearing quality, or aluminum (as original). The insert shown here is 7075 T-6 aluminum, which is substantially tougher than the original cast housing.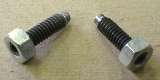 This is also an opportunity (if you prefer) to tap the side holes and install dog point screws in place of the original press fit pins to provide anti-rotation of the hand lever. When lockwashers are used the screw length must be planned to accommodate thickness of the lockwasher, and the same size washer must always be used to retain proper position of the screw point. Alternative could be a dog point set screw and locknut (as shown here).

For more information, contact:

Gregory G Brown
3034 Cribbon Av.
Cheyenne Wyoming 82001 USA

Phone: (307) 632-8239,
5:30 PM to 8:30 PM MST please (GMT -0600).
E-mail: "Gregory G Brown" <gbrown7721@aol.com>