The MGA With An Attitude
M.G.s Through The Ages -- HS-105-K3-EX135
MG 'K3' EX-135 -- 1934-1952 - the "Magic Magnette"


Open body single-seater arrangement for sports racing, 1934
1100cc supercharged 6-cylinder engine, offset gearbox, no aesthetic value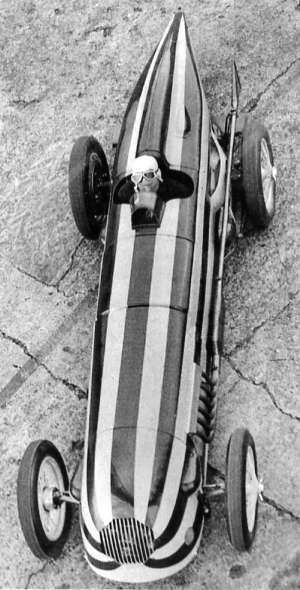 Streamlined single-seater arrangement
for record breaking, also 1934


This single car gets a page all its own, because it was so notorious in racing and in setting multiple speed records both pre war and post war. Continuing development of this car under multiple owners with factory support was to improve the MG brand in both hardware and sales promotion.

EX-135 is the most famous K3 Magnette of all. Radically modified and specially bodied in starting in 1933 for George Eyston, this "Humbug" (so nicknamed because of its lengthwise brown and cream stripes) was designed as a racer-come-record-breaker with alternative bodies - one very narrow with exposed wheels, the other all enveloping. It was operated by Eyston in 1934, setting up new Class G records - and winning the British Empire Trophy race.

When Lord Nuffield decreed "no more racing by the factory" in 1934, Eyston sold it to Donald Letts, who later sold it to Col. Goldie Gardner. He had Reid Railton design a special enveloping body for it, a length of 197 in., width 63 in., and height 26 in., the seat being along side the angled propshaft. Gardner thenceforth, through a steady process of development (including engine changes, blanking-off cylinders to reduce capacity, and further streamlining) entered into a lengthy period of record-breaking through to the war. His first attempt, on the Frankfurt-Dessau road, achieved 187.63 and 186.567 m.p.h. for the flying mile and kilometer - the ultimate maximum achieved by the car being for the mile in 1939, at 204.2 m.p.h. (with the 1100cc engine).




Final pre war steamliner body.
Records for fastest car in International classes:
Class G (751-1100cc) 203 mph 1939.
Class F (1101-1500cc) 204 mph 1939 by boring it slightly oversize (1106cc).
Class H (501-750cc) 150+ mph 1946 with smaller bore one-off 6-cylinder block.
It was tried in class I (351-500cc) but did not do well running on 4-cylinders of the 750.
In 1948 the car was "rented out" to Jaguar to fit their experimental 4-cylinder 2-litre XK engine setting a 2-litre (experimental) class record at 157 mph.
Class I (351-500cc) 150+ mph 1949 running on 3-cylinders of a short-stroked 1100cc engine.
Class J (251-350cc) 120+ mph 1950 running on 2-cylinders of the shortened-stroke 1100.
Class E (1501-2000cc) 139 mph 1951 with the supercharged version of the XPAG engine.
A shortened-stroke supercharged version of the Wolseley 6/80 2215cc 6-cylinder engine was tried in 1951 but suffered multiple mechanical problems.
Class E (1501-2000cc) 150+ mph 1952 with the supercharged XPAG 4-cylinder engine.
Class E (1501-2000cc) 202 mph with the supercharged Wolseley 2-litre 6-cylinder engine.