The MGA With An Attitude
PORTS AND THREADS for Master Cylinder Connections - HT-117
On 8/16/2010, Eric Svendsen in Minnesota wrote:
"I bought a new master cylinder. I went to connect the banjo fitting for the clutch and found that the thread sizes were off. A 7/16 bolt fits perfectly in it, but the brake line won't begin to fit in it. What is going on"?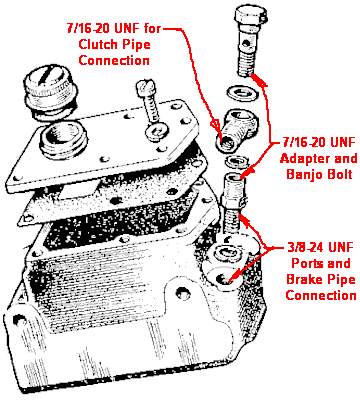 Moss part number for the banjo bolt is 180-390. This has 17/32 diameter shank and 7/16-20UNF thread. Ports in the master cylinder have 3/8-24-UNF thread. The brake pipe male flare nut threads directly into the port.

Where the banjo bolt is used for the clutch pipe connection there is an adapter fitting between the banjo bolt and the cylinder port. Moss part number is 180-400 Adapter with 7/16-20-UNF female thread on top and 3/8-24-UNF male thread on bottom.


| | |
| --- | --- |
| | 3/8-UNF to 7/16-UNF adapter in cluch port. 3/8-UNF bolt in brake port. |
The banjo fitting is Moss number 180-050. This has the 7/16" hole to fit the banjo bolt and 7/16-20-UNF female thread in the output end (complete with flare seat to accept the steel clutch pipe). On the banjo bolt are are two copper sealing washers of different size. 324-740 is 17/32" ID and fits under the head of the banjo bolt, while 324-720 is 7/16" ID and fits between banjo fitting and adapter fitting. At bottom of the adapter fitting is a third copper washer 324-730 with 3/8" ID.

Reason the banjo fitting female thread is larger than the port thread in the casting is because the clutch pipe is larger diameter than the brake pipe with matching larger diameter male threaded flare nut. If you were a bit of a contortionist you could screw the clutch pipe fitting into the adapter fitting and eliminate the banjo fitting, banjo bolt and two copper washers.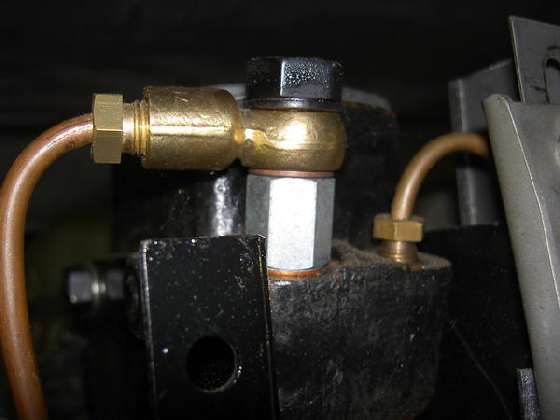 Reason for the banjo fitting being used is to position the clutch pipe flare nut off the side where it is easier to wrench. I'm sure this works better on a right hand drive car, as the LHD car puts the clutch pipe under the body cowling aft of the wiper motor. Reason for the clutch pipe being larger than the brake pipe is to facilitate rapid fluid flow for quick engagement of the clutch when you let the pedal up quickly.

Note that the adapter fitting, banjo bolt and banjo fitting are used only for the clutch line connection, while the brake line threads directly into the master cylinder port. If you want to install a similar adapter and banjo fitting for the brake pipe, there is a different banjo fitting available with 3/8-24 UNF output port.