The MGA With An Attitude
SLEEVING Master Cylinder to Different Bore Size - HT-203A
Standard MGA (not Twin Cam or "Deluxe") and early MG Midgets or AH Sprite with all drum brakes use 7/8-inch dual bore master cylinder. The 1098cc Midget and Sprite are unique with 3/4-inch dual bore master cylinder (and front disc brakes). The 1275 Midgets and Sprites starting 1967 used separate brake and clutch master cylinders.

There are a couple of issues with the different bore sizes in the dual bore master cylinders. If you install a 3/4" bore unit in a car that originally had 7/8" bore, you get 36% longer pedal travel. That might require a double pump for good brake force, and may have the clutch pedal full into the carpet for changing gears. Occasionally the odd 3/4" bore master cylinder has found its way into an MGA to cause these problems. If you install a 7/8" bore unit in a car that originally had 3/4" bore, you get 25% shorter pedal travel and 36% higher pedal force requirement. This may not be dangerous if you have a heavy foot and get used to it, but you would be well advised not to let anyone else drive the car without fair warning of the higher than normal pedal force.

If you have the wrong master cylinder in hand, you might think about boring a 3/4" unit out to 7/8" and installing larger pistons. Or you might sleeve a 7/8" unit down to 3/4" and install new pistons. You should be advised that sleeving a master cylinder to a different bore size than original is usually not done as a matter of economics. If you send one to a rebuilder with the request to change bore size they will usually start by exchanging it for one with a the correct bore size to avoid the machining, and not having to replace the pistons. If the bores are pitted, they they can be bored out a little and be sleeved back to standard bore size. Sleeves are usually brass but could be stainless steel on request.

There are special circumstances that would require changing bore size of the dual bore master cylinder. An early 948cc all drum brake Midget or Sprite with engine and gearbox being upgraded from 948 to 1098 will need large bore for brakes and small bore for clutch. A 1098cc Midget or Sprite being upgraded to 1275 engine and gearbox will need small bore for brakes and large bore for clutch. In these cases the dual bore master cylinder could start out with 3/4" bore and have one side bored larger, or it could start out with 7/8" bore and have one side sleeved down to be smaller. Since the 3/4" units are more rare, these conversions usually start with the larger bore and install one thick sleeve (or one sleeve thicker than the other).

Another issue comes from a prior company called "Roadstar" in Sacramento, CA. For pitted master cylinders they used to bore them slightly oversized and install custom manufactured oversized pistons and seals. Roadstar is now out of business, and the special rubber seal parts are no longer available. For these units the bores can be sleeved to end up back at standard bore size.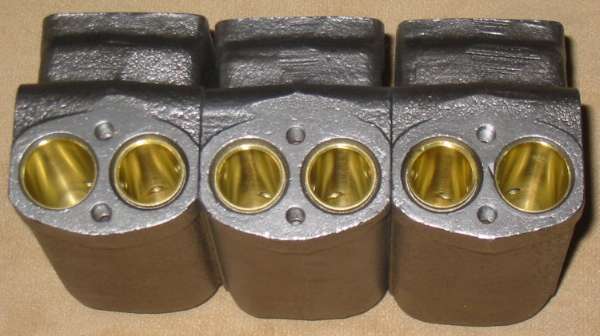 Large and Small bores -- Two Small bores -- Small and Large bores

Sierra Specialty Automotive in Quincy, CA, has a program to do the bore size change along with sleeving the dual bore master cylinder. See www.brakecylinder.com/spridgetbrakes.htm. Here they will most often use the more common larger bore (7/8") master cylinder. The 7/8" unit can be sleeved to 3/4" with little or no machining of the iron bores. It would require less brass to sleeve a 3/4" bore unit, but those are now hard to source.