The MGA With An Attitude
DOOR SEALS - Bob West -- INT-108D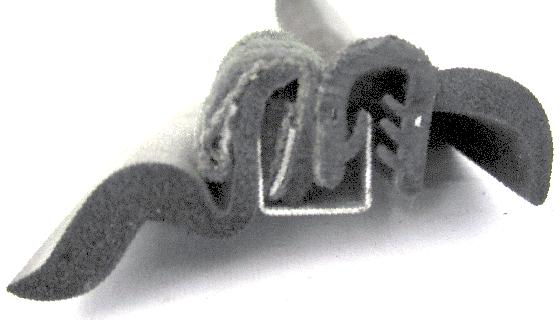 Left: Todd Clarke seal - - - Right: Bob West seal
Here we have a picture of two MGA door seals for comparison. Seal on the left is the Todd Clarke (USA) seal discussed on a couple of preceding pages, original style door seal, and all good user feedback. Seal on the right is from Bob West (UK).

From the picture a couple of pertinent points should be fairly obvious. The Todd Clarke seal fits primarily around the perimeter of the door shell between the shell and the body sill and door posts. In one place for several inches at the lower rear corner of the door the seal is trapped between two vertical surfaces (against the face of the door trim panel). When this happens the foam rubber wing seal will occupy the same horizontal space but will be below the furflex cover.

The Bob West seal has the foam rubber wing positioned on the side of the furflex cover. In this case the seal will not go around the perimeter of the door, but it will always be positioned against the face of the door trim panel. The furflex and foam seal must then be squeezed together side by side in the same space. I have been told (by one person so far) that the Bob West seals actually fit and work, that they were a little "tight" at first but would eventually settle in allow the door to close easily. I would be happy to have another opinion or two.