The MGA With An Attitude

MGAguru.com
MGAguru.com
Replacement Seat Cushion - INT-111B


Some folks have been asking for dimensions of the MGA seat cushions, with the intention of carving their own parts from block foam rubber. So here is a good start. Photos and note from Michael Layman <!-www.dependablephones.com-> in Beaverton, Oregon, USA. Michael wrote:


"I have about 5 1/4 inch in front part, removed wedge shape below, and about 1 1/2 in the Rear when I push the seat cushion down".

An electric carving knife works well for trimming the foam rubber. Follow the contour of the plywood base board all around (or 1/4 inch larger) with a slight forward lean at the front.

The current commercial part has no core holes underneath, so it may be more firm and settle less then the original cushion. Some people get creative and bore core holes from the bottom. Other people shave some off the bottom of the cushion to lower the seating height a bit.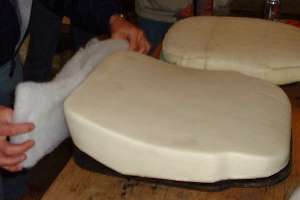 The cushion in foreground on right came from Moss Motors in early 2005, same as one I bought in early 1997, and I believe same as is supplied in 2014. These are molded to correct shape, left and right handed. Notice the correct contour on top with the kick up in front and the slope down at the rear. This one is a delight to install, just drop in onto the base board, and install the cover.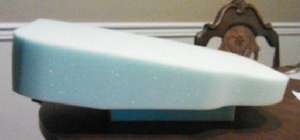 This next one comes from Scarborough Faire. While they are right and left handed parts, they are flat on top and would be somewhat difficult to trim to the proper top contour. It also strikes me that the underside ramp angle is too shallow. It appears to have been hot wire cut form flat stock.

This one came from Victoria British in early 1997. It was composed of two pieces hot wire cut and glued together. It is far too flat on top, no kick up in front, entirely the wrong contour when compared with the correct cushion. At time of this picture it had been in service for 8 years and was being recovered. This is one part number, same part specified for both sides, and it has to be trimmed around the sides to make the asymmetrical pattern for MGA seats. I bought and used it because it was the only one I could find available at the time. Given a chance to do over, no way. As far as I know, V.B. is still selling the same model.

What these cushions all have in common is, firm foam rubber and no core holes underneath. Some people trim the bottom side to sit a little lower. A few courageous innovators may bore core holes in the bottom to emulate original Dunlopillo cushions, and to reduce the firmness to more original standard.